Rab Kinder Smock Review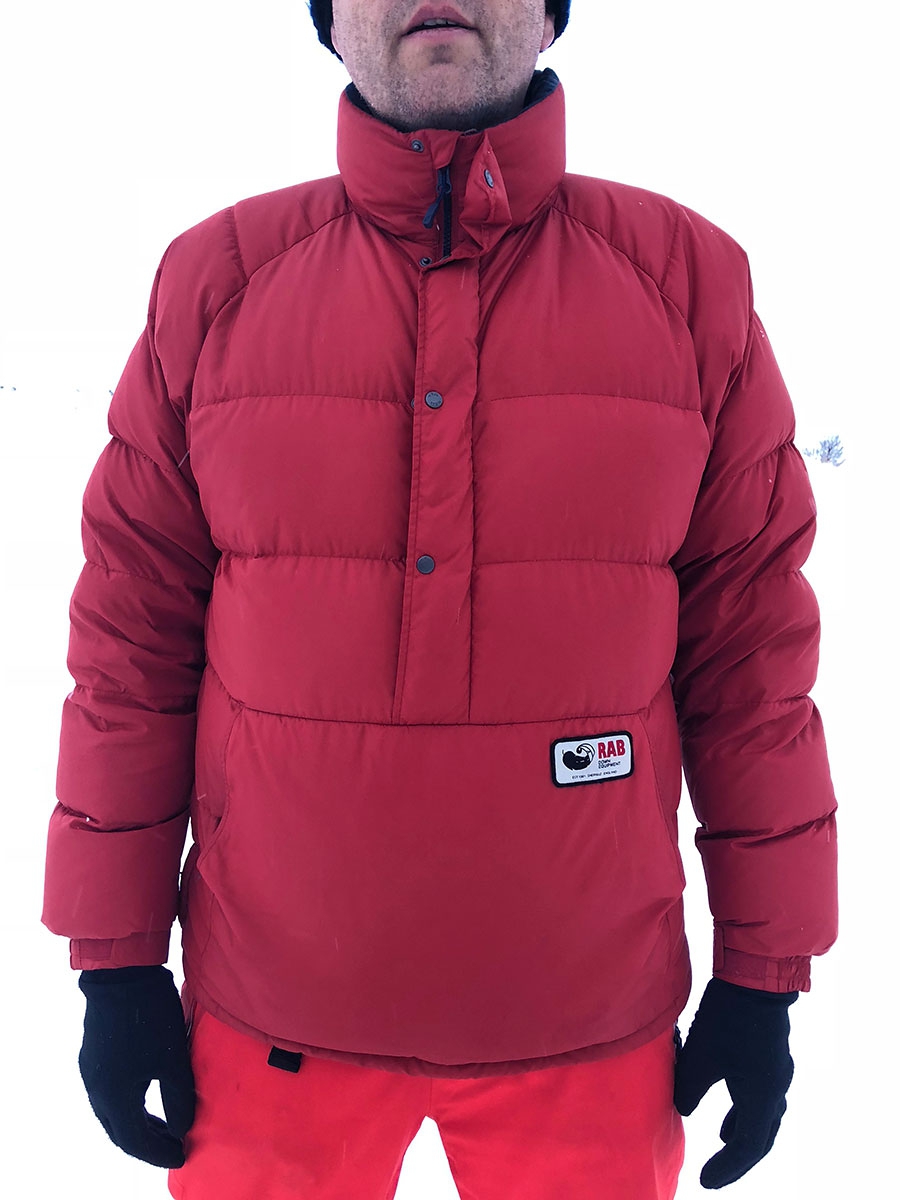 Last week, just before heading out to Northern Iceland, yet another clothing order arrived at our house. Another dress no doubt? This time, instead of me handing the package to Rachel, Rachel handed it to me.
"Happy Christmas...! Well it isn't really a Christmas present, but I thought you could replace your other smelly one!". It was a Rab Kinder Smock; a reissue of a lost Rab classic in fabulous russet red. I was ecstatic, a positive that will be brought up in her annual review... (she's just thrown a cushion at me)
My Rab Peak Smock is looking tired. It's lost its loft and this is hardly surprising. I have had this beloved eBay purchase for over ten years and it has been with me on literally every winter adventure. Functional, warm and stylish, it's a design that is hard to beat and until recently it was a true essential for the winter season, worn on literally all my aurora pursuits until recently. I have been a long time user of Rab gear and all its differing layers systems, but the Peak Smock is a clear favourite, so much so that I have been looking for another new-old-stock to replace it. These days, now retired from the Arctic, I use mine at home in my large Victorian town house, to stop me putting the heating on. With 800mm walls and no cavity, it gets down as low as 13ºC on a cold winter's day, which (when you think about it) makes perfect economical sense, if you want to be a complete tight arse.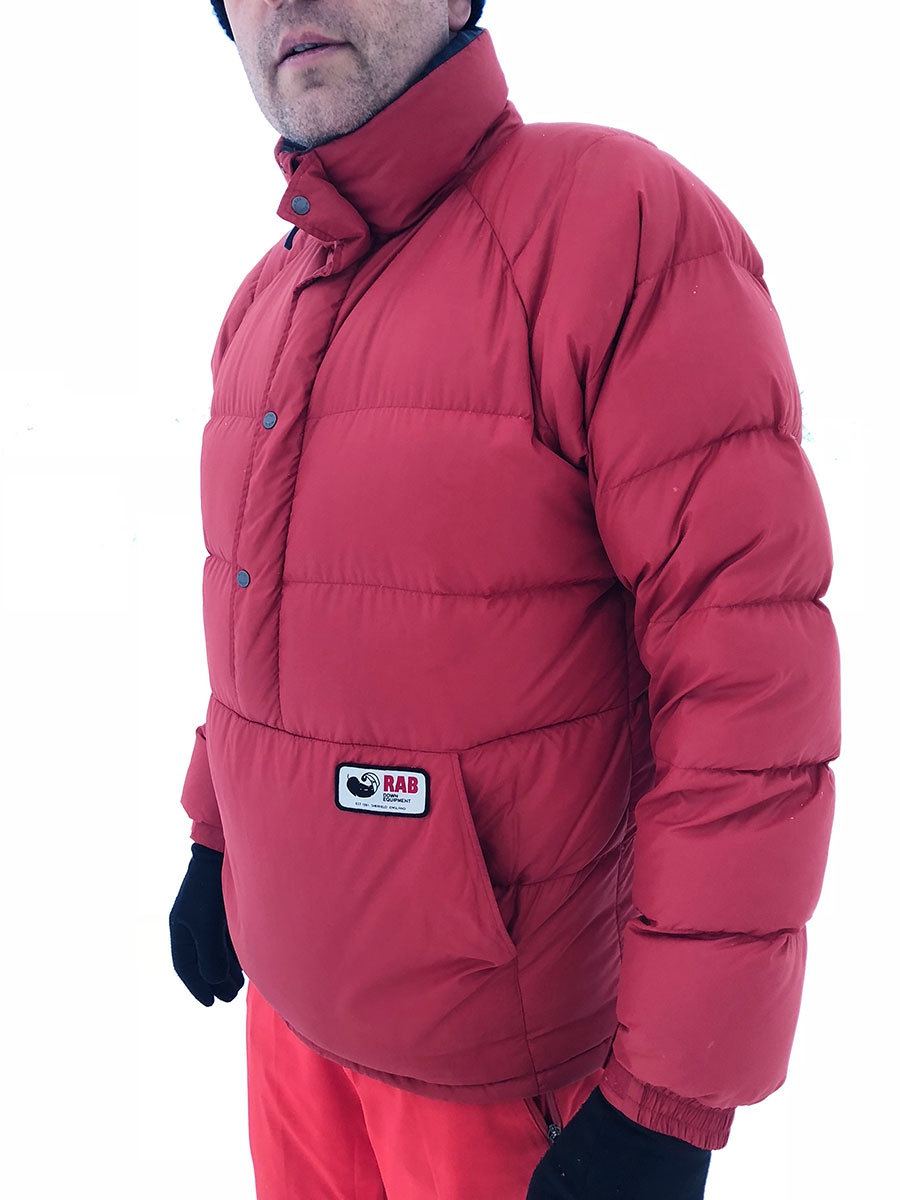 The Kinder was the first of the Rab smock design and its 2017 reissue was greeted with an 'alleluia' from the outdoor community, climbing scene and one elated Devon photographer. The down smock had been discontinued in favour of Rab's many down jackets, but the design is a classic for a reason, which is why I have hung onto mine for so long.
In Detail
The Kinder is a pull-over-the-head down top, with a big hand warmer kangaroo pocket on the front. I haven't owned an 80's original before, but I noticed some differences with my Peak Smock when putting it on for the first time. There were no grubby stains for starters, the kangaroo pouch was deeper and softer feeling than the Peak (thanks to a soft tri-cotton lining), but there was no front zip pocket on the outside (which I was initially disappointed about). Yet there was an additional inside pocket on the open neck, perfect for a phone or keys, which the Peak Smock lacks. Like the Peak, there's an additional side zip for those who need access to their rope harness (or underpants in my case), Velcro cuffs and a neckline popper. There's a lovely vintage Rab logo to add some retro style and when you first get it comfortably positioned, it feels really, really good. Wonderful quality Pertex Quantum fabric on the outside, soft cotton pocket and smooth lining, which makes it easy to get on and off.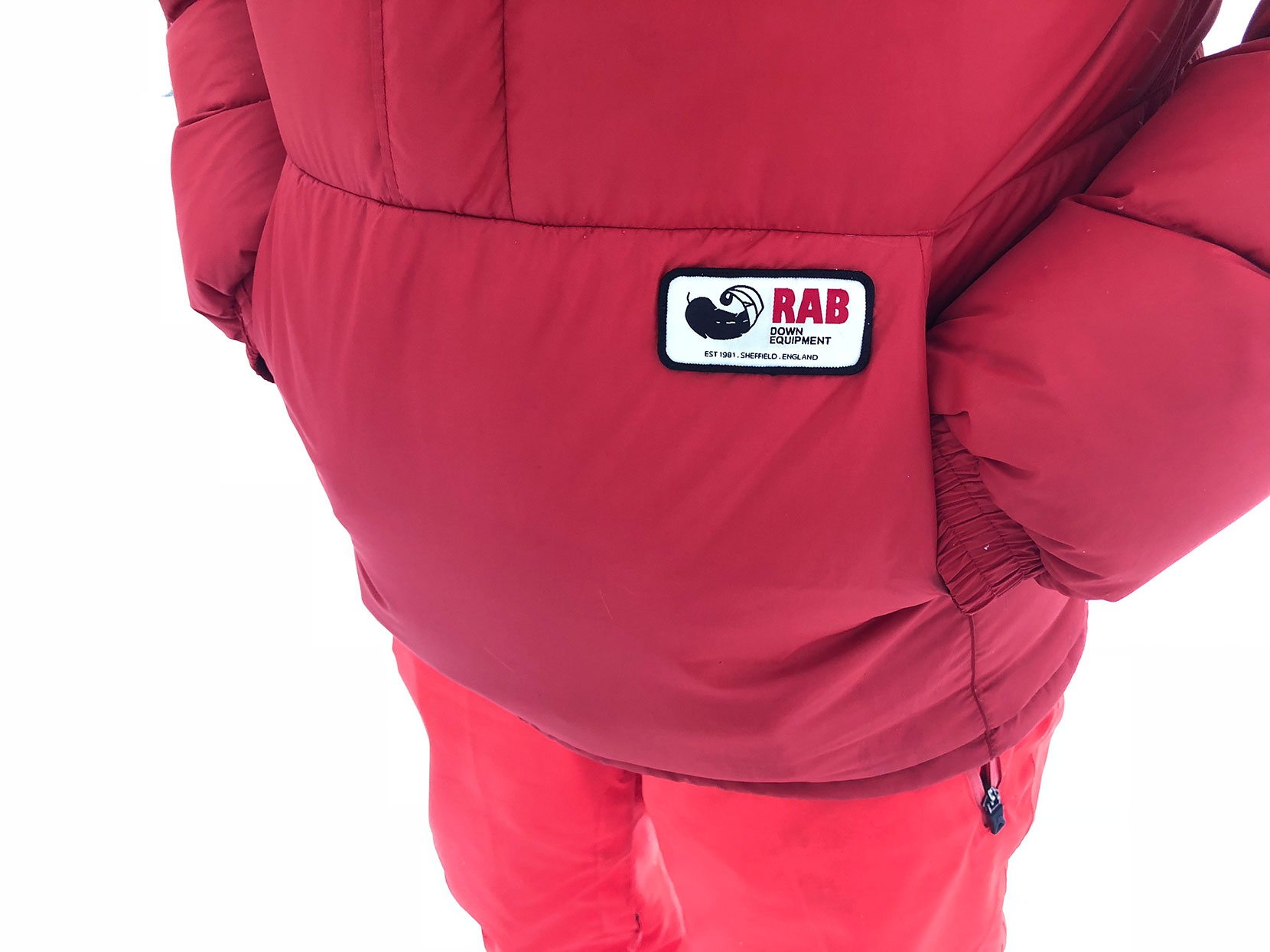 My first outing with the Kinder was to Northern Iceland, where the daytime temperatures hit -10c. I started using it for drive-by shootings, giving me enough warmth when jumping in an out of the car for photographic stops. With such well-regulated temperature, I was as warm inside and out, never feeling that another layer was needed. Later that week temperatures plummeted to a teeth chattering -23c. The Kinder kept my body heat perfectly regulated inside the car and worked well as mid layer when paired up with my Rab Expedition jacket. Get walking and the combo made me overheat very quickly, a testimony to the insulating qualities of both and the practicality of a good layering system.
I religiously zipped my credit cards and car key in the inner neck pocket when leaving the Landcruiser, as the open ends of the pouch make it too risky to store anything important. Don't get me wrong, it's good for slotting filters, lens caps and gloves into when setting up the camera, but I have to say I missed the security of the zip on the Peak Smock kangaroo pouch.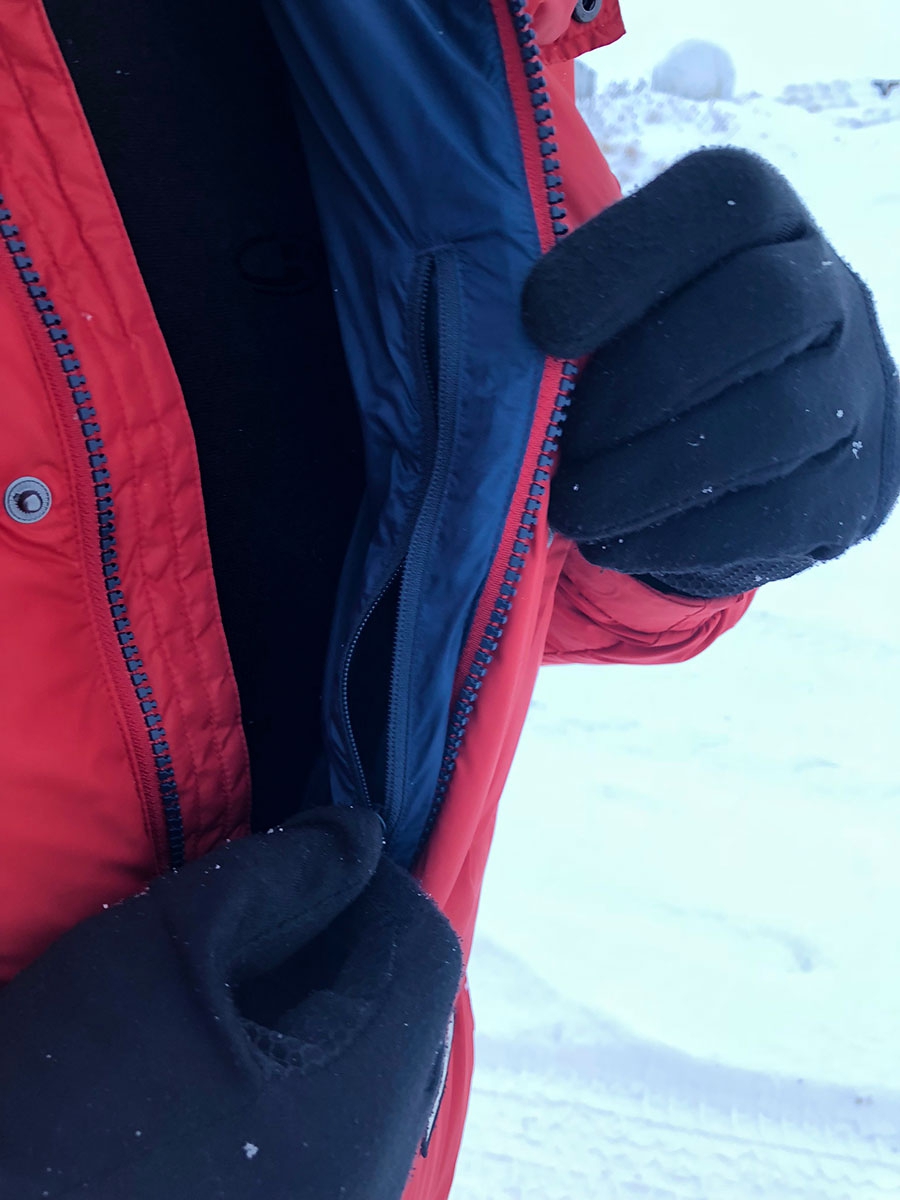 I also wore the Kinder when lounging around back in the hotel foyer, simply because it felt so cosy that I didn't want to take it off. It always maintained its temperature control without overheating, which was surprising indeed.
Travelling is easy. I packed it in my hold bag in a larger Exped stuff sack, to stop the down getting too crushed. It returned to full body within minutes of unpacking but I am certain I could have reduced the volume even further.
I was slightly concerned about the fill at first. It seemed a little thin and patchy out of the box, so I gave it a twenty minute stint in the tumble drier which puffed everything up nicely, so I would recommend doing this to get maximum loft.
Other than a zip kangaroo pouch is there anything else I would change? Yes, one small point - the inner pocket zip. Rab tend to use these little YKK zips on the interior of a number of their jackets I have owned. If they want to stick with the same brand, they should use a larger gauge zip as it's almost impossible to operate with thin gloves on. The inner hem tends to fray after a while causing the threads to get trapped in the teeth, which is irritating and could be avoidable.
Slung over the banisters, you'll reach for it first when heading out on a frosty dog walk or a brassic winter shopping trip. It's great when simply standing around, when waiting for the light and it will keep you warm in 'pleasant' Arctic temperatures shall we say, which in my view makes it perfect for everything the UK can throw at you this winter. Also, the large pouch pocket becomes an extra pair of hands when working the cameras and you can fill it with filters, caps and even lenses as big as a Canon 100-400! Getting it out was another matter.
It's a pillar of climbing history, with quality fabrics and a classic design, perfect to accompany you on virtually all your winter pursuits in this season and many more to come. Use it as a mid layer, use over a mid layer - you can break the rules in anyway you like. It's this pedigree, this simplicity that makes the return of the Rab Kinder Smock a welcome to all.
NOTE – it is worth shopping around for the Kinder as prices tend to vary. Although Rachel bought this on Black Friday for £125, remember that firms like Cotswold Leisure and a host of online retailers will price match. Prices are coming down.