Photographing Death Valley - Part 1
In November 2011, I undertook a fabulous adventure to explore and photograph the California deserts. It's been a long time ambition to photograph Death Valley and one that has taken a while to organise with my good friends Mac and Bryan. Finding a time when all of us were free took was the hardest part, taking over a year, but L.A bound, I could sense the trip would be filled with excitement.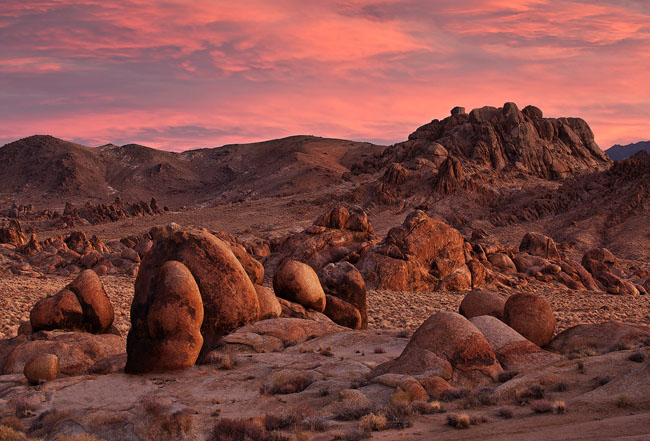 Lone Pine, a wonderful dawn - EOS 5D2, 70-300f4L IS @ 100mm f11 for 2secs
First stop was Lone Pine (above), reknowned for its gunslining and tobacco chewing more than its landscape photography. Lone Pine has been the prime location of many a Hollywood western and cafes and restaurants are filled with memorabelia. My first thoughts were how this landscape came to be, with its huge blobby rocks and extruded granite shapes but as with much of the USA, it's becomes very apparent how uttery massive it is.
Lone Pine Dawn Shoot - This dawn shoot was complex. The previous afternoons discovery had yielded no particular viewpoints, it was all about using your wits. All three of us split up and headed in different directions and as this wonderful colour developed to the north, I was running around trying everything possible to make the compostions balance.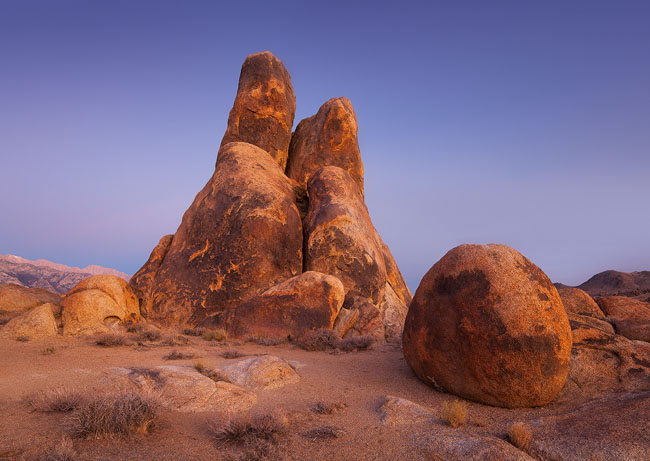 Anthropamorphic - my mind was running riot, taken with a 24mm TSEmk2 f11 for 1sec
I owe this shot to Bryan. He had found it the day before and I managed to shoot this 20mins before sunrise. It was very apparent to me that the best light would occur before the sun reached the horizon as clear desert skies would reduce shooting times considerably.
Mesquite Dunes.
Then it was off to a place I have wanted to photograph for many years - the Mesquite Dunes. This complex of smaller dunes is near a small town called Stovepipe Wells. Its a small town in the middle of nowhere. Expect burning heat, dust storms and gigantic skies? All the images in my head were simple colours, blue and yellow. As the sun sank towards the mountains the lighting became sublime as the shadows defined the dunes into simple tonal curves.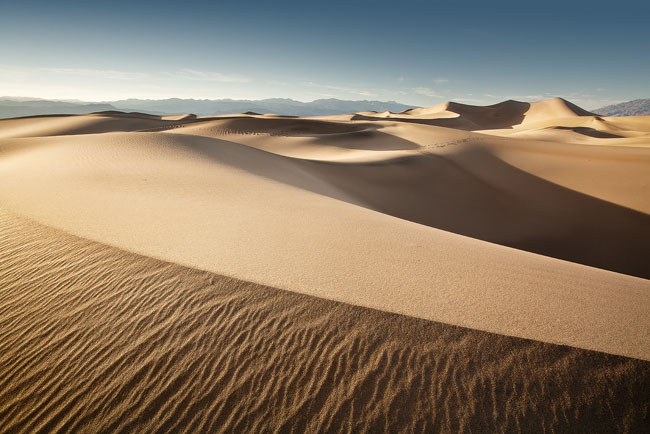 Simple Shapes and Textures - wonderful warm side light, EOS 5D2, 24mm TSEmk2, f16, 1/15thsec
The following morning I woke early to expect another clear dawn, preparing for soft shades and tones stepping aside to hard light. Nothing prepared us for such an incredible start to the day. Mac spilt from us and headed off alone, whislt Bryan and I traversed the dunes together.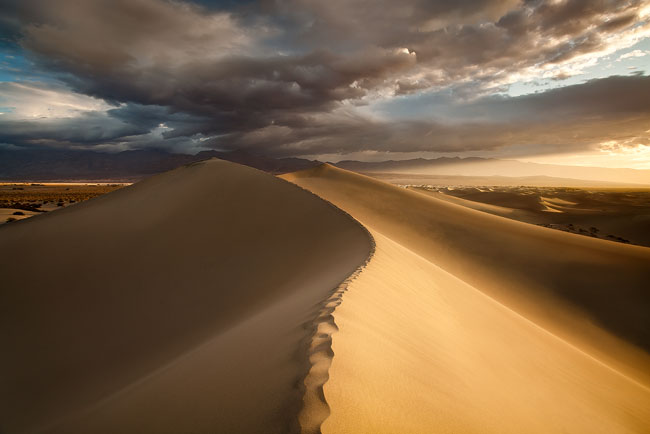 Spectacular Dawn - EOS5D2, 24mm TSEmk2, f11 two images exposure blended.
Nothing was as powerful as this moment. As the sun fired beams in every direction, the dark thunderclouds were situated perfectly above the twin peaks. I waited a few minutes for the sun to light the dunes to give it that necessary dimension, taking portrait and landscape shots before carefully advancing along the ridge.
Shooting in desert environments is very tricky. It is so important to think about your compositions with every step, as the image can be ruined by your footprints.
Meeting up later in the morning, we were all happy with the shoot. Then we packed up and headed off to the north, to explore even larger dunes that would eclipse Mesquite for sure.