Namibia Workshop Excursion One - Elizabeth Bay Mine

There are few places in the world that I have have found more bizarre, more compelling and more photographically rich than 'eBay'. Yes, that's right, before the behemoth of phone based, online window shopping addiction began, eBay was the acronym for Elizabeth Bay Diamond Mine in Namibia. It's located to the south of Luderitz, a quirky coastal town situated on the Atlantic ocean. Everyone drools over the legendary, easy to reach Kolmanskop, a living memory of impossible sand filled interiors, but I have to say I find it unrewarding; a veritable theme park in comparison to the dark ghost of twisted industrial wreckage that waits in eBay to the south.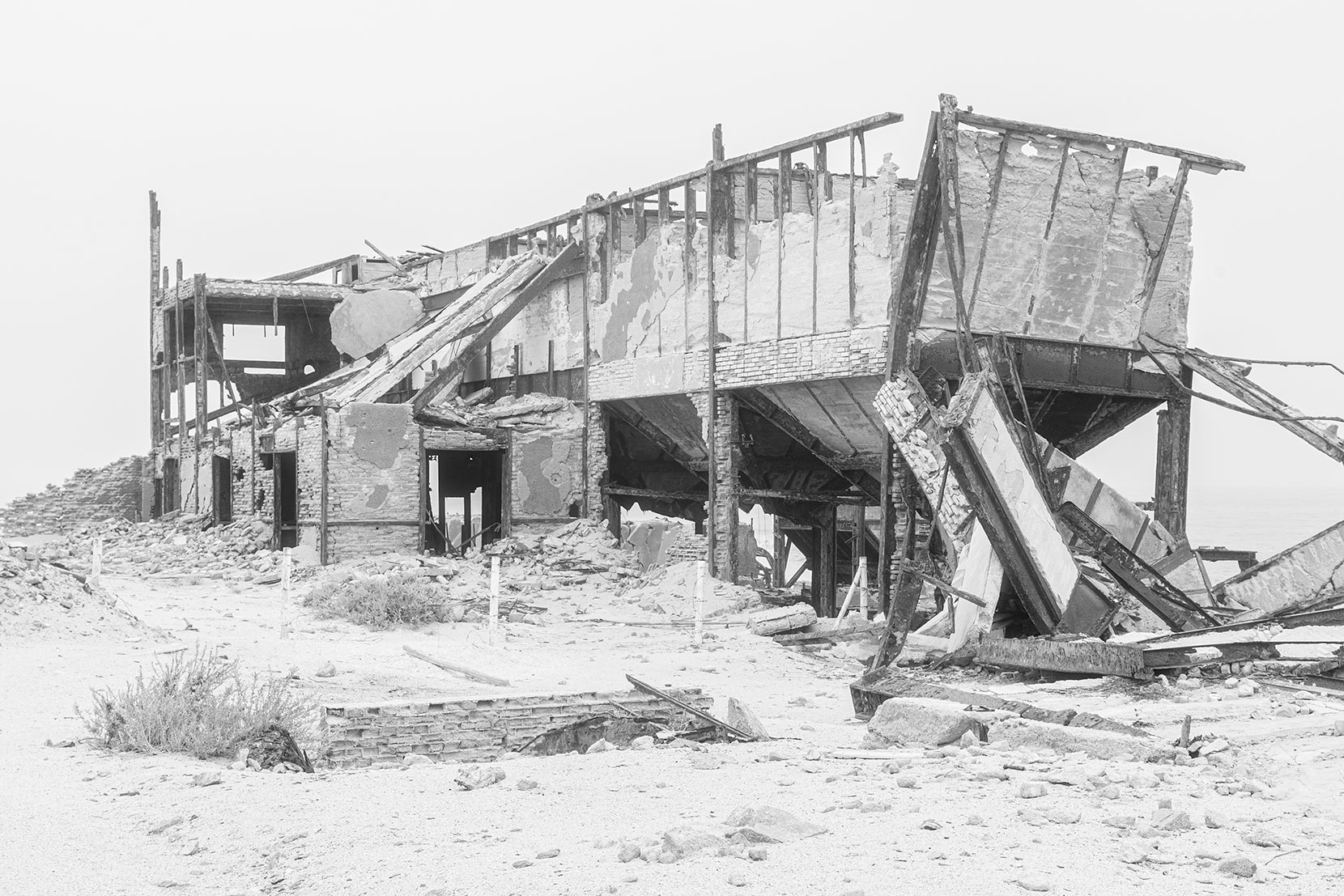 In brief, diamonds born in the fires beneath the mighty Drakensburg mountains popped out of the earth in the Kimberly region and got washed along rivers and streams over millions of years. They reach the coast and then end up in the ocean, churned up with sand where they settled beneath the water. Legend has it that early explorers shot an ostrich, you know the large, unpredictable, mentally unstable, pebble and dirt eating, flightless weirdo-of-a-bird that will rip you in half for 'looking at it funny', and nestled between the five foot long drumsticks they found a belly full of small shiny stones. These diamonds are not for romantic courtship, moreso industrial divorce, being used for tools, blades and cutting.
So how to you get yourself an eBay diamond? Become the wealthy captain of a large industrial ship and win a contract. Moor it off the shore, use a very large vacuum cleaner and when you can't suck any more sand onboard, dock at the pier, where lorry after lorry will take it to be processed in a crushing plant. Conveyor belts take the waste and grit away, tipping it on top of what looks like the words biggest industrial sand castle. You guessed it, you can't pick them up off the shore; apparently it takes a metre cubed of sand to find just a fleck, but although production at the mine has now ceased, there's still a lot of potential. Still, paranoia runs high at the mine, so should you stumble across a bit of rough diamond, you wont be going anywhere with it unless it's at gunpoint.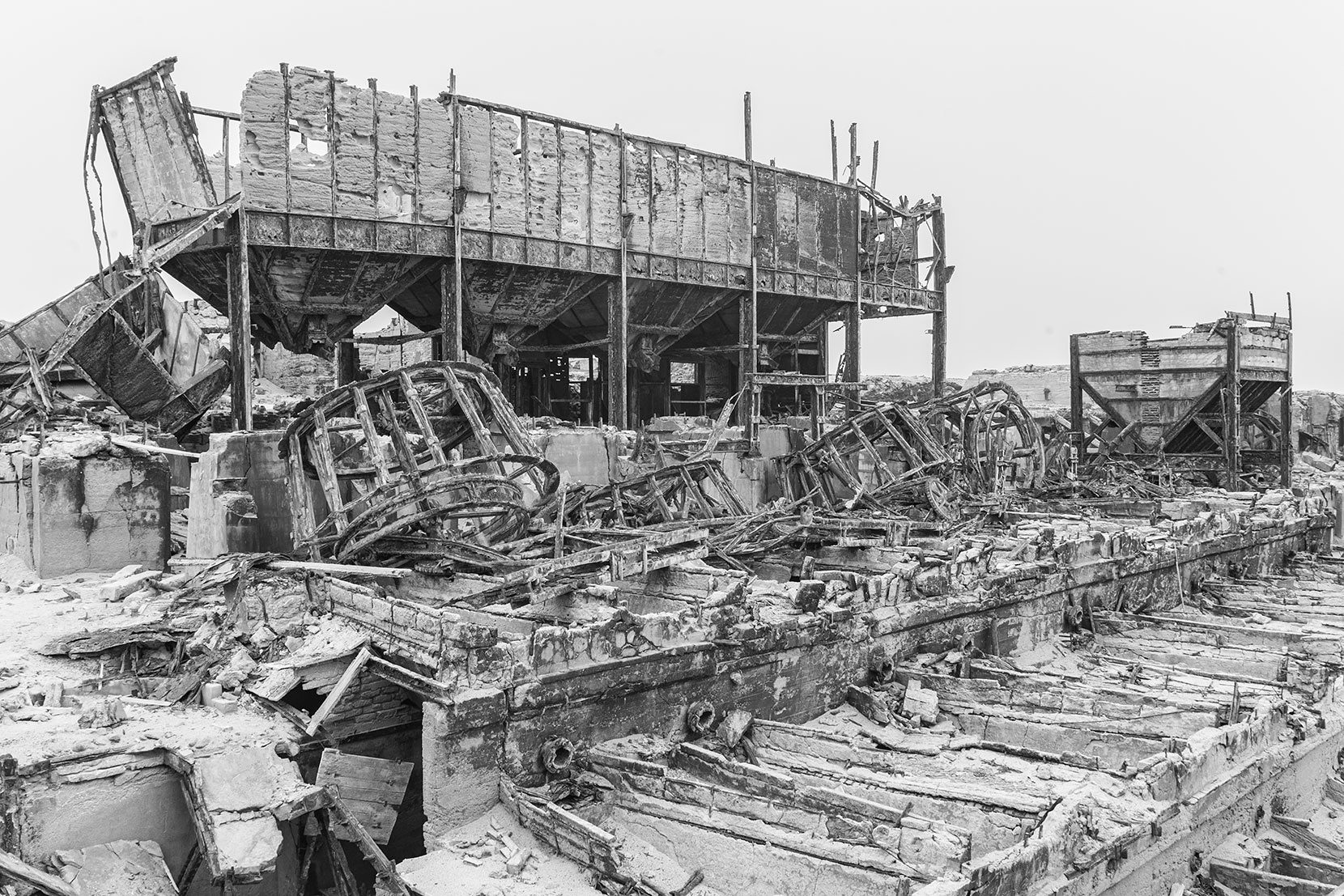 The original eBay was a flash in the pan. It was only in operation for about twenty years, with slave-like conditions being particularly barbaric, unless you were a wealthy German speculator of course. Echoes of this can also be seen in the juxtaposition of architecture and interior decoration in the housing at Kolmanskop, where the entrance road to Elizabeth Bay Mine begins. Yet unlike Kolmanskop, Elizabeth Bay is strictly regulated, the application process requiring passports, guides and advance permissions. Still, its worth every second of logistical complication I undergo, as what awaits inside is truly staggering.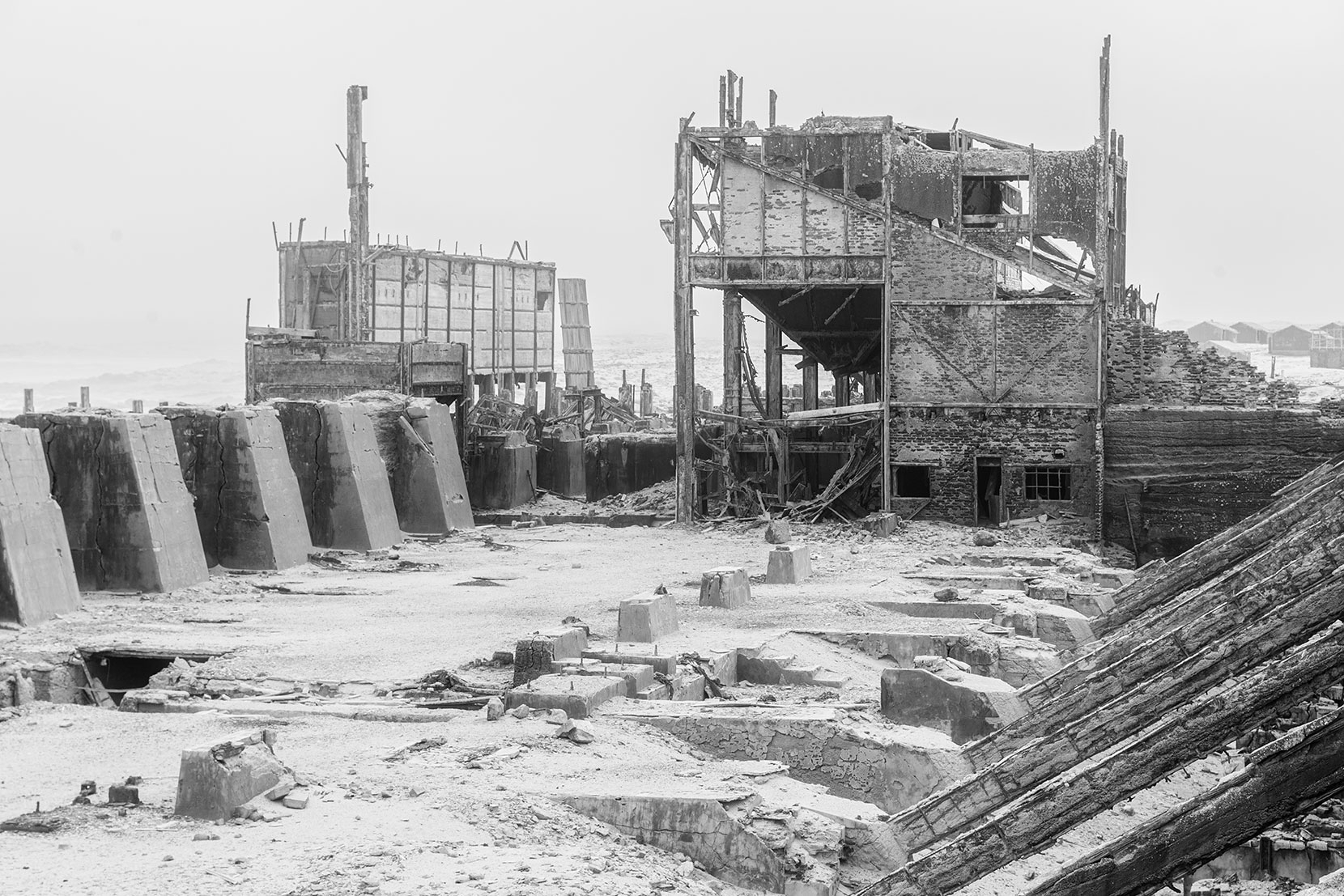 This photographic wonderland is far from the naive sand filled doorways and thankfully they don't exist here. What does, is a blaze of impossible industrial architectural atrophy. I have stood gazing at this mangled grave, its sandblasted honeycomb gravity-defying render and tried questioning how long all this will last. The entrance to the Casino (not a casino in the sense that you're thinking) appears held up with all the engineering of a game of Jenga, and it looks absolutely perfect. Adjacent houses also sit gravity defiant; a collage of matchstick roofing collapsing around the dry splintering window frames.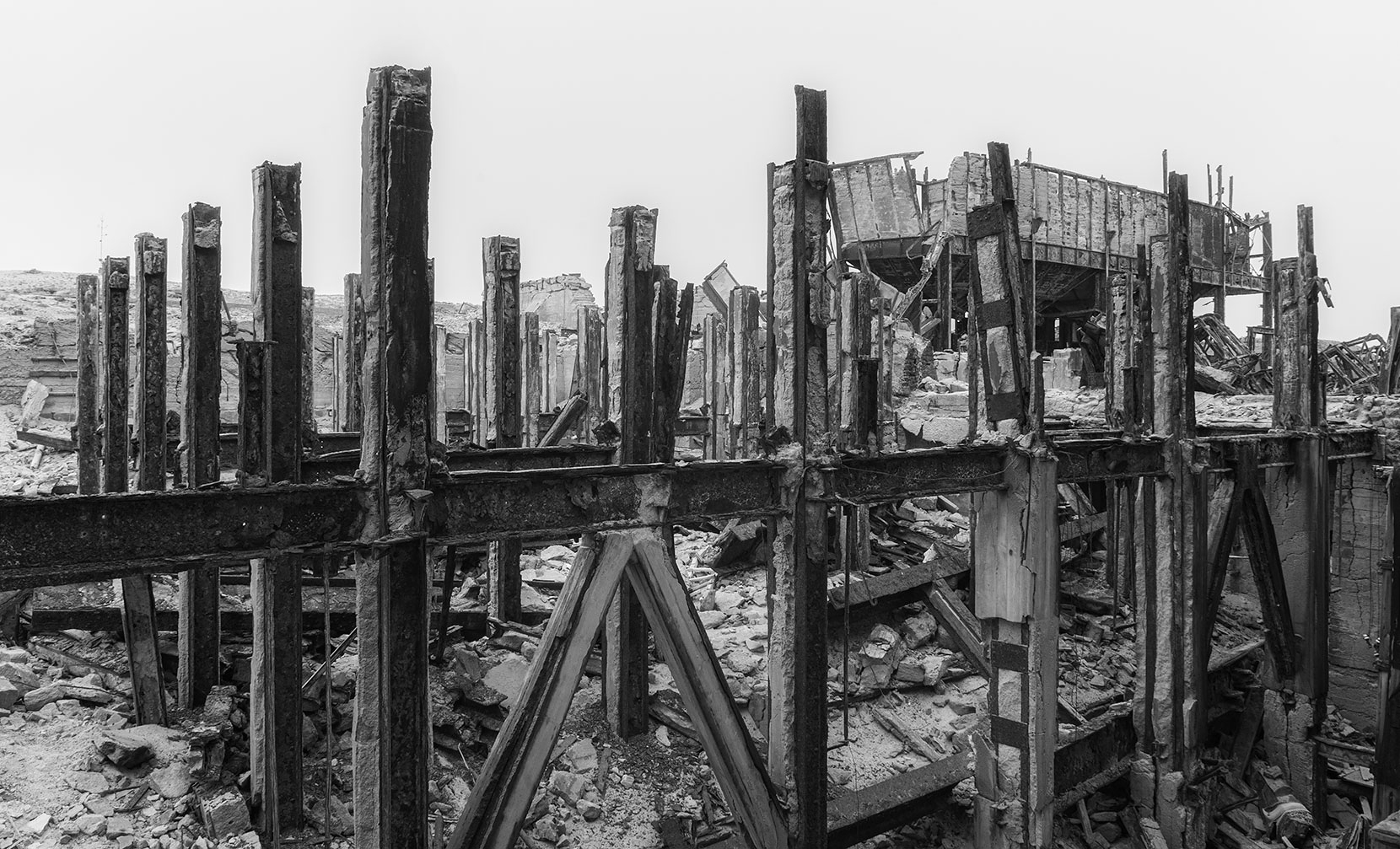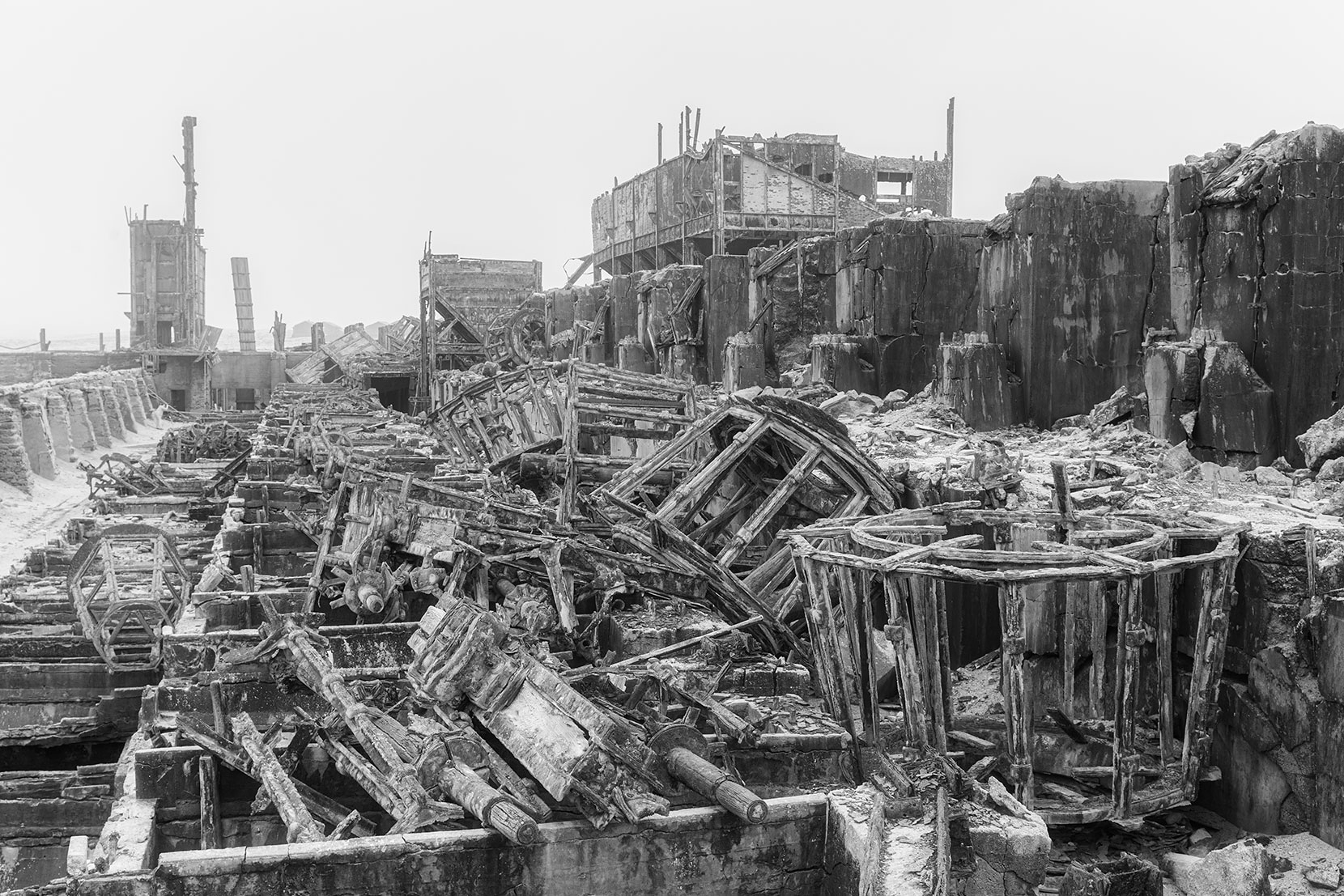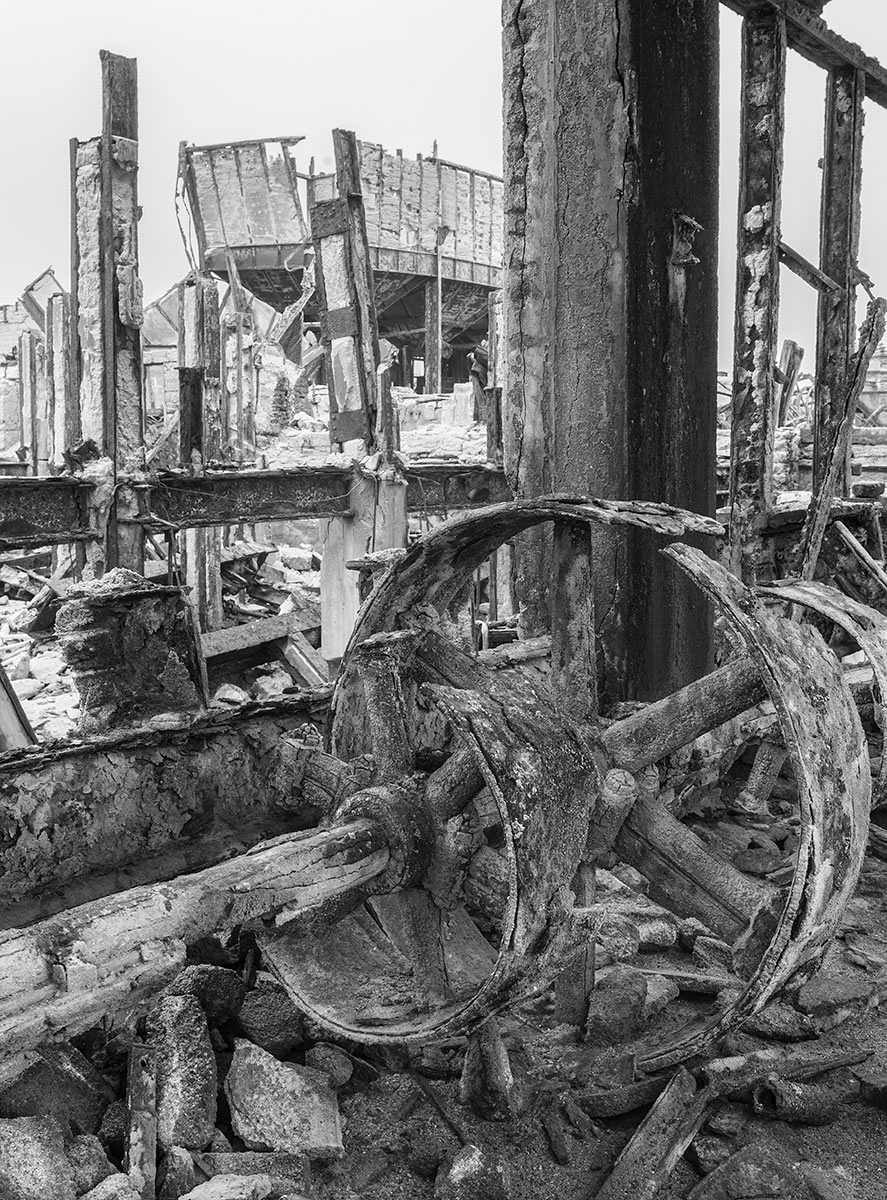 It is the twisted metal of the diamond processing plant that holds the most incredible sights and is arguably the most photographically compelling. Aptly, I shot the whole thing on my filthy infrared converted Canon 6D (it needs a clean so badly), as it's the medium of choice for capturing graphic degradation. We arrived in light coastal fog - the infrared spectrum balanced the lights and darks with a complimentary lift in the shadows. With lines appearing to be drawn of graphite and pencil, the dismal coastal backdrop and the sound of crashing waves isolates the collapsing plant in eerie abandon.
The salt air has rusted and flaked the metal, the perfect compost for a disgusting yellow industrial algae that coats your hands with a dry paste. Once I had got it all over my camera and lens body, I was far more careful about what I touched. A row of pulleys collapsed towards the floor provide circular interest among the linear stanchions and cross bracing, but further site investigation revealed more alarming chemical infection, with walls on the brink of collapse and chasms in courtyard floors with unpredictable 20ft drops into concrete coffins. I am alone, it's fucking dangerous, I wont be found easily - yes, all this is becoming rather concerning.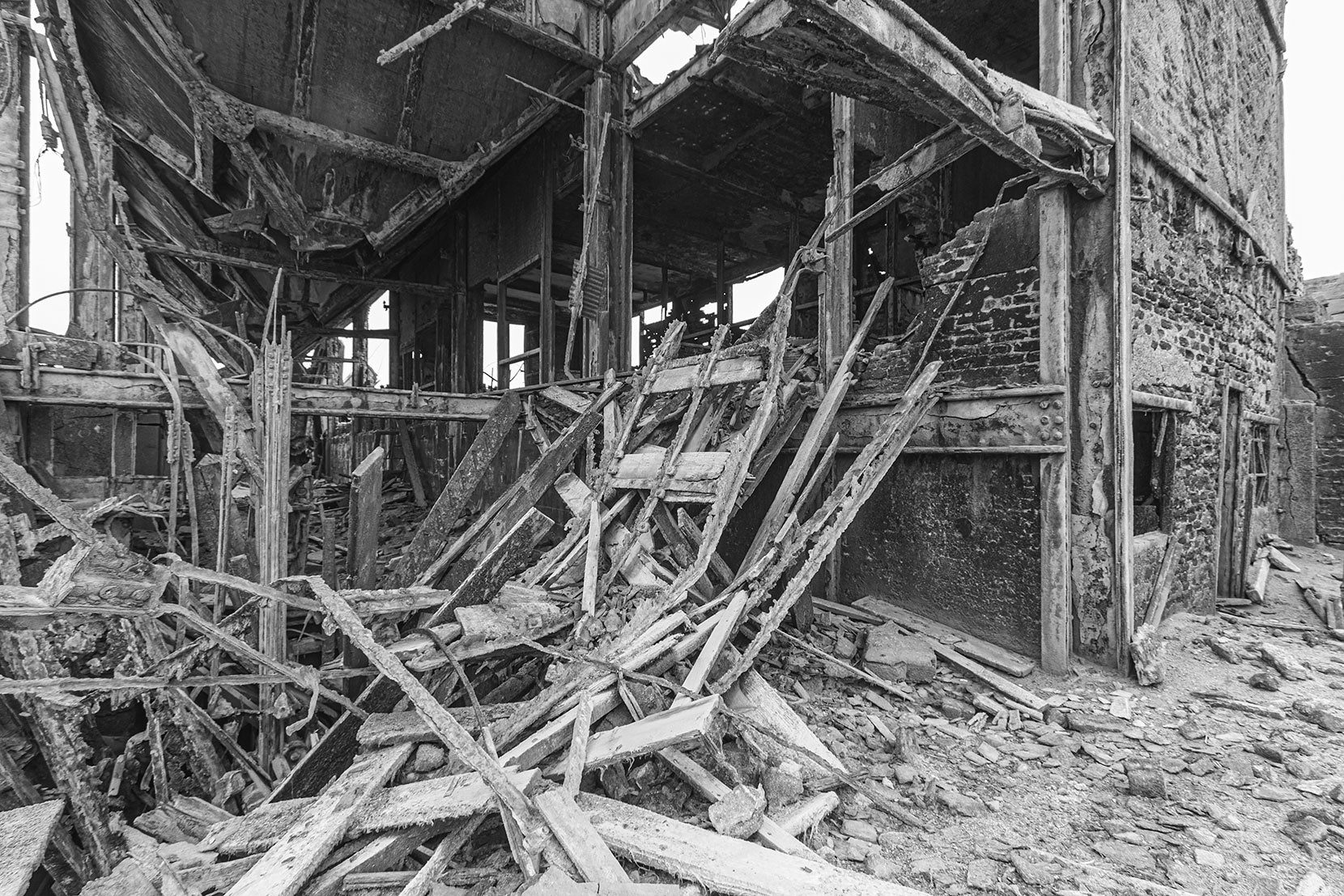 Places like this are literally non existent in the western world. My second chance to explore and photograph this rarely visited, off-trail industrial armageddon has been special indeed and the results at the processing plant feel exhibition worthy, not that I would ever waste my business capital on such narcissistic, egocentric showboating. I feel I managed to connect with something powerful within this mangled, trashed performance, this animated corpse. It leaves me questioning its resilient constitution - just like pondering how Keith Richards is still alive. It is crumpled perfection, so incredulous, as though every future structural collapse is done so with full permission of the Tate Modern. Further visits are needed - a night shoot is surely on the cards for next years experience and I hope to push the very boundaries of photographic potential at Elizabeth Bay over the years to come, if I havent poisoned myself that is.