Canon EOS M3 Review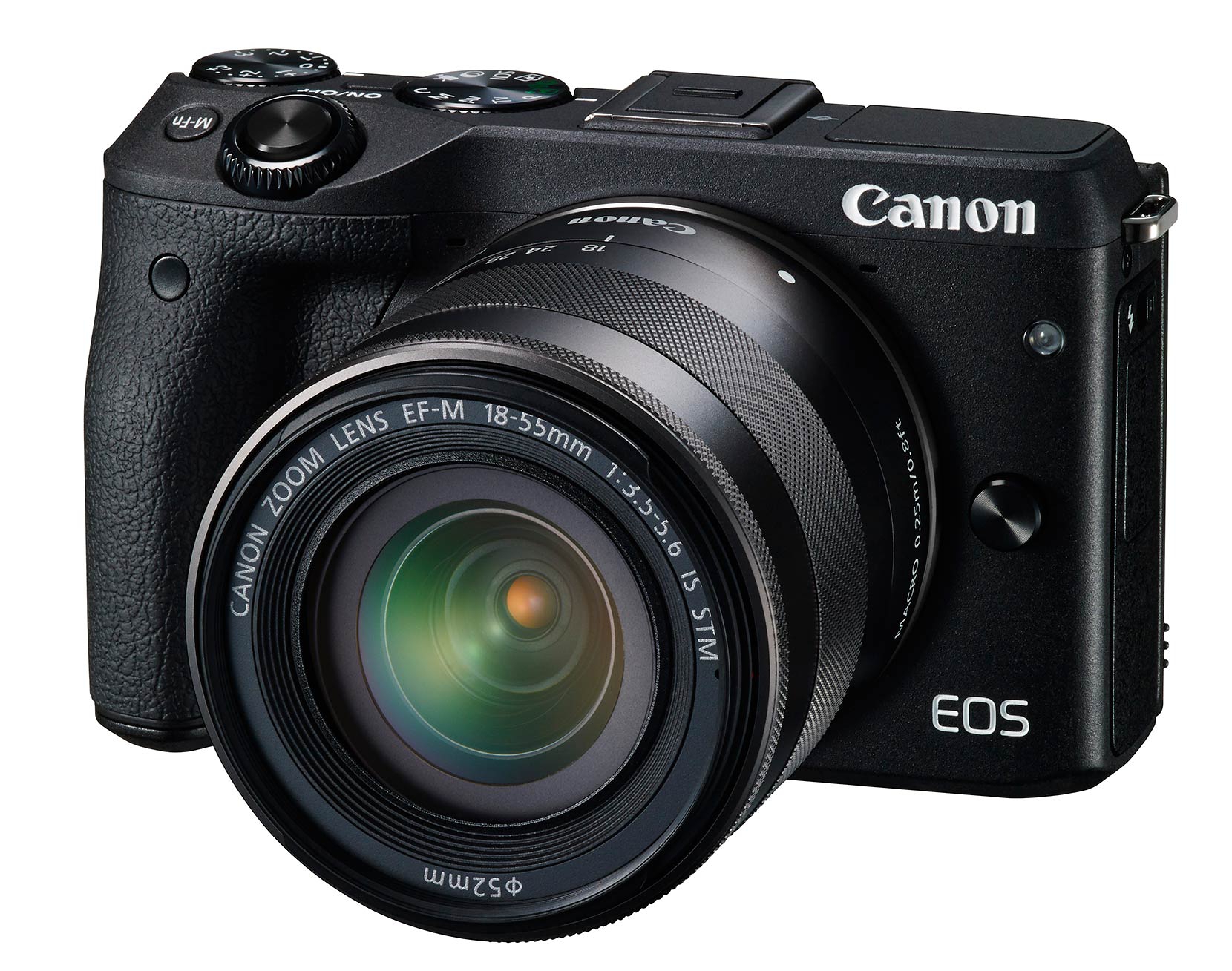 Travel Photography with the EOS M3
­­­­­Have you ever wanted the power of a Canon DSLR in a smaller more compact body, with a great set of lightweight lenses that also give the option to use the EF lenses you already own? Well I am here to tell you that the EOS M3 is a dream come true for the travel photographers with its uses covering a even wider spectrum – from landscapes to architecture to travel, this small footprint mirrorless camera can be used as a lightweight alternative to the heavy artillery, as a backup body or in combination with your EF lens collection. Standalone, the M3 is a well-built camera, with a quality lens line up and a great sensor – it's the compact system I have been waiting for my whole career.
Bullet Point review for those in a hurry –
It has all the power of a DSLR system and the carefree fun of a compact, it's easy to dive in and take great images.
It's a 24mp sensor borrowed from the 750D that produces 6000x4000 images
I happily shoot it up to ISO1600
Dynamic range is around 10-11 stops
All lenses are light but great build quality with exceptional sharpness - optimum aperture is f5.6-f8
With the EF adapter all your favourite lenses can be used – autofocus works
Autofocusing is extremely accurate – but it is unfair to compare focus tracking capabilities with high end DSLRs.
Shutter lag is noticeable on moving subjects, but can be partially overcome with continuous shot mode.
Crop modes open the doorway to massive creativity - 3:2, 16:9, 4:3 and 1:1
Standard 1920HD 25fps video works well and its easy to use.
Handling is great, some buttons are a little too recessed
Handling is improved even further with an L Bracket.
Tilting rear LCD screen is generous, bright, detailed and touch sensitive
Battery life will last a day with conservative image reviewing (a spare is a great idea)
Electronic Viewfinder has changed the way I work. I now wish all my DSLR's now had EVF's.
Flash does not take up valuable body space – it is discrete and powerful
Focus peaking, colour assistance for manual focusing, is absolutely brilliant –another feature I wish all DSLR's included.
Wi-Fi is straightforward and easy to use with Canon Camera Connect. Great for social networking.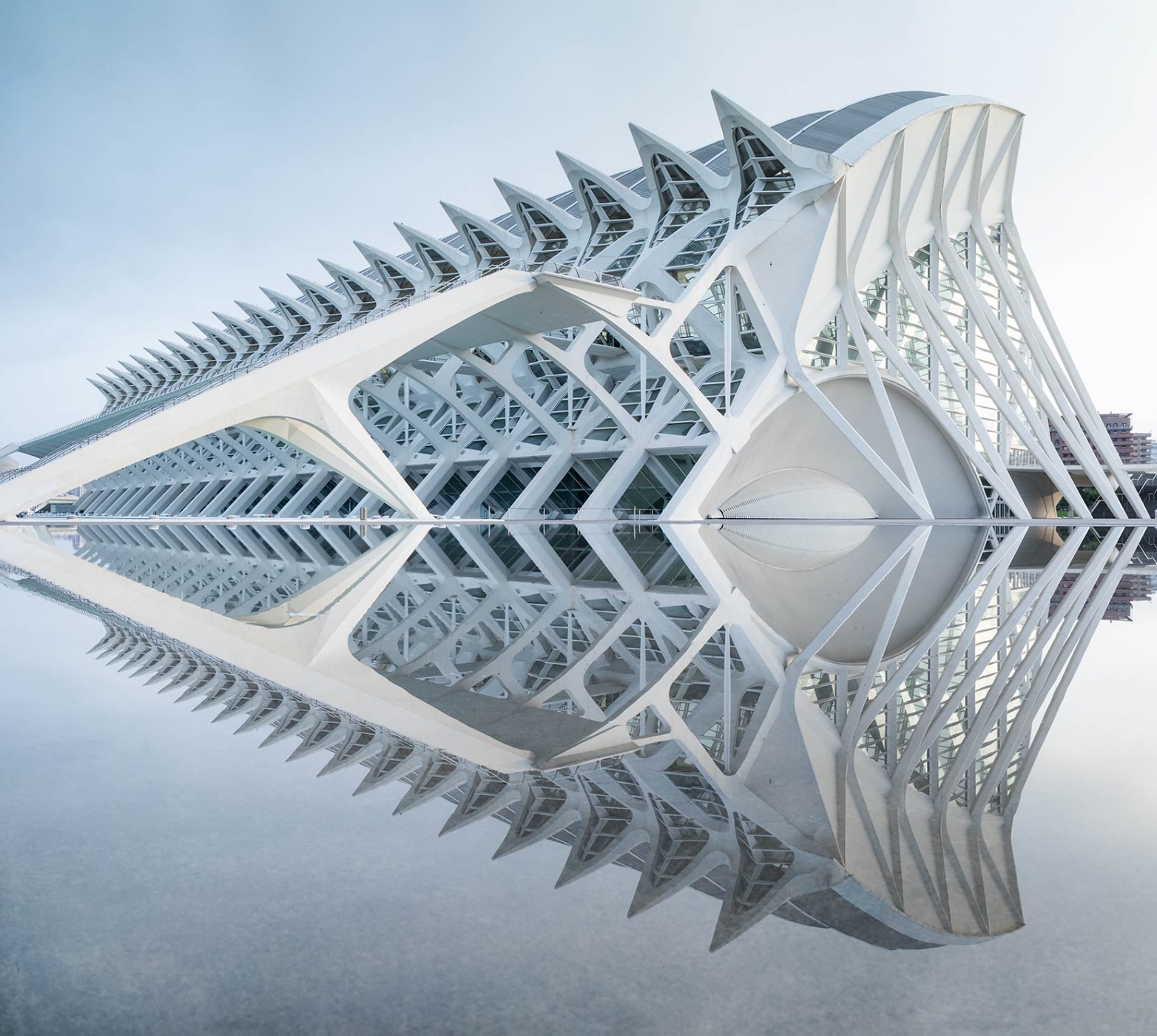 Review Overview
If you are a frequent visitor to my website in th last two months, you may or may not have seen portfolio shot credits to the EOS M3. I have been trialling this camera on three trips – starting with Valencia, then Provence, the Loire Valley and finally Brittany. After receiving the full kit (11-22mm, 22mm prime, 18-55mm and the 55-200mm and EF adapter) I did the usual few garden test shots and all looked promising. Handling was classic Canon and menus seemed straightforward as ever, yet it was only when I started to use the camera extensively in Valencia that I began to unlock its potential. The M3 is not only a very creative tool and a relief from the weight of my DSLR system, but a brilliant system in its own right, without the compromise of image quality.
This review is going to concentrate on a number of areas crucial to photographers on the move. I want to highlight that it extends beyond what office based magazine reviewers have time to cover. No disrespects intended to those staff, but reviews seem to centre on laborious comparisons to other mirrorless systems and also seem to copy each others rather wayward conclusions. I see the same 'cons' - poor lens quality, poor autofocus, but I have seen nothing but the opposite. I want to highlight the potential of the M3 standing on its own two feet - as a DLSR companion, a camera for the Canon DSLR subscriber as well as those looking for a powerful standalone compact system.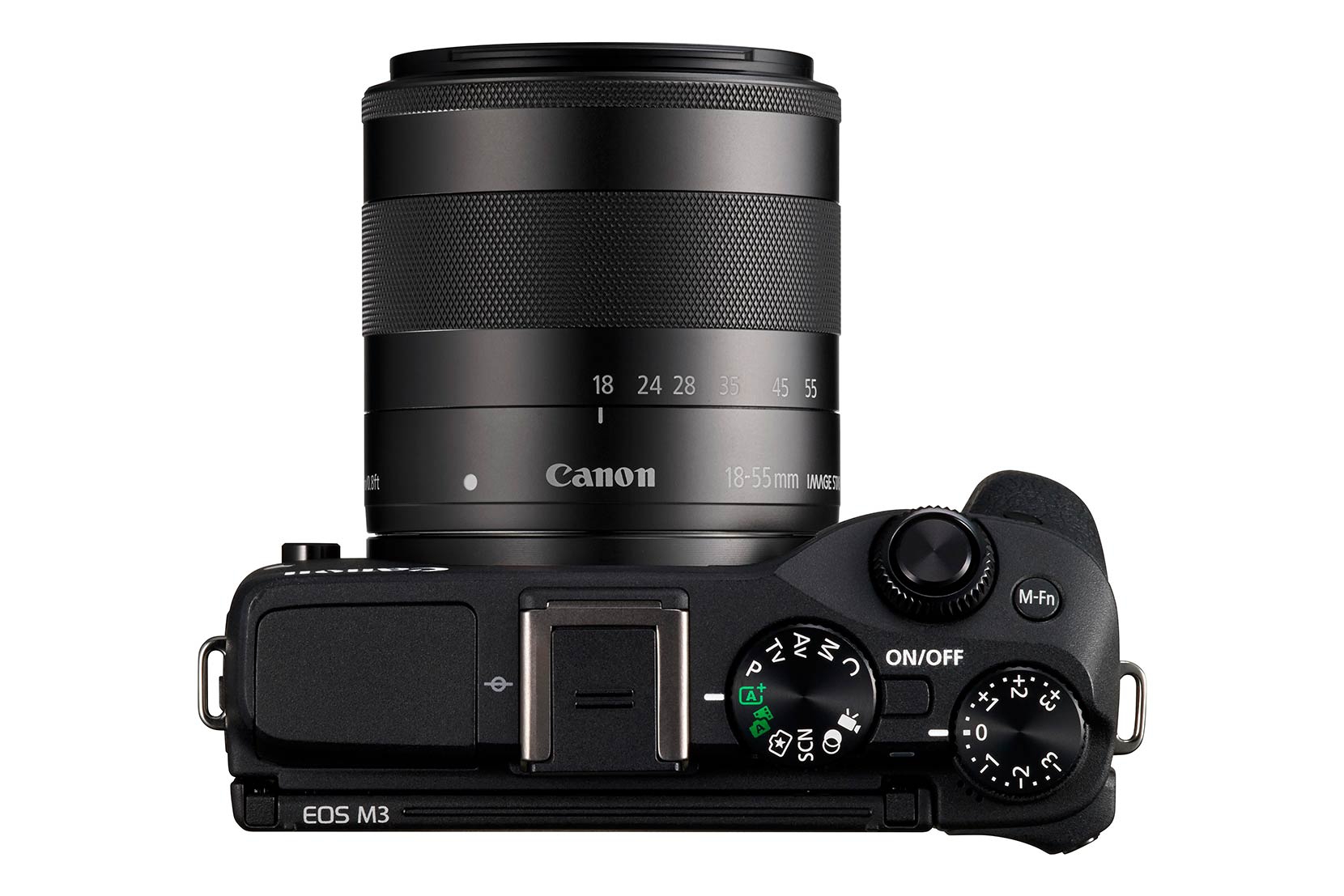 All the Power of a DSLR
When I first anticipated using the system, running a Light and Land workshop to Valencia, I must confess that I initially clung to my primary DSLR, only considering the M3 as an afterthought. I packed the full kit into my DSLR bag (which hardly took up any space at all) and made sure I had the EF convertor, just in case the EF glass wasn't up to standard. I shot the 55-200mm and the 11-22mm at the end of the first dawn session and returned to the hotel to scrutinise the RAWs after breakfast…. The results were incredible. At first glance I was hard pushed to tell any difference between this pocket rocket and any reputable DSLR.
The M3 has all the power of a compact DLSR, with sharpness, colour and the finesse of a professional body. You wont be choosing this camera as a 'last resort' in fact quite the opposite. I became intrigued to see whether it was capable of high end photography, so that afternoon, still lugging the bag of iron under the relentless heat of the Spanish sunshine, I put it to work. Perhaps this lightweight and powerful camera could make my whole trip a lot more bearable. I convinced myself that for research purposes, it was now promoted to 'primary daytime camera'.
Lighten Up
For some strange reason I have big problem separating photo fun from photo serious. I don't 'point and shoot', in fact I coined the phrase 'pointless and shoot' a few years back. I'm either working with a DSLR or I am without one. The idea of a compact for collecting location images, videos and dare I say it 'funny pics' is something I use my iPhone for. As a professional photographer I just can't seem to let go.
So I was very surprised when the Canon M3 brought about a complete rethink. That morning, I emptied my entire bag of DSLR kit, put the entire M3 kit inside and laughed – it's still empty. The weight of the whole kit is just 1.2kg for a 18-320mm focal length (equivalent full frame) setup. The whole system weighs less than a 1Dx without a lens attached! I also included my 24mm TSEmk2 lens as its essential for city architecture. With some polarising filters and a light jacket, the bag weighed just over four kilos. Utter bliss.

Handling and Buttons
The M3 is a great camera in the hand - the bond is strong here. The position and the layout of buttons and functions are classic Canon, with echoes of IXUS and G series running through the design. The surface texture is grippy and all the rotating dials feel solid and positive. The thumb grip is a perfectly positioned addition that I feel elevates the M3 from compact land to a system full of accuracy and artistic potential.
My first quibble is the ON / OFF switch, it's a little awkwardly placed in the centre of a few other controls, but when you discover the rather stealthy flash, you become aware why there are no buttons on the top left of the body. If the camera was any smaller, I think there would be a problem. Those with large hands are going to feel a rise in blood pressure for sure, but for most photographers who have used any of the Canon compact systems before will find engagement positive and the layout instinctive.
If you use cameras predominantly in Av mode, you will be happy to find there is an EV dial. It can be easily operated with the right thumb. Although I am a Manual / Av user with all cameras, I found the Av / Ev dial combo worked very well.
I do wish the camera's buttons were not so recessed. Thankfully being a guitarist, fingernails are useful here, but they could do with being slightly bigger and lifted outwards just a fraction of a millimetre to stop things feeling a little fiddly and increase a more positive engagement.
Adding an L Bracket
One of the things I did to improve the overall handling was to add a borrowed L-Bracket from a Canon 6D, an Arca Swiss style bracket system I use on all my DSLR's. It is not the correct bracket for the camera, but it allowed me to extend the overall width by a few centimetres. I do recommend this, sitting it with a generous gap placed to the left of the body, not to the right of the camera. The bracket will sit over the battery compartment, so cards or batteries cannot be changed without taking the bracket off, but this is a small price to pay for the handling improvement. I carry the camera confidently in my left hand from the bracket alone, so there is no need for a camera strap. It also helps me steady the camera immensely when composing.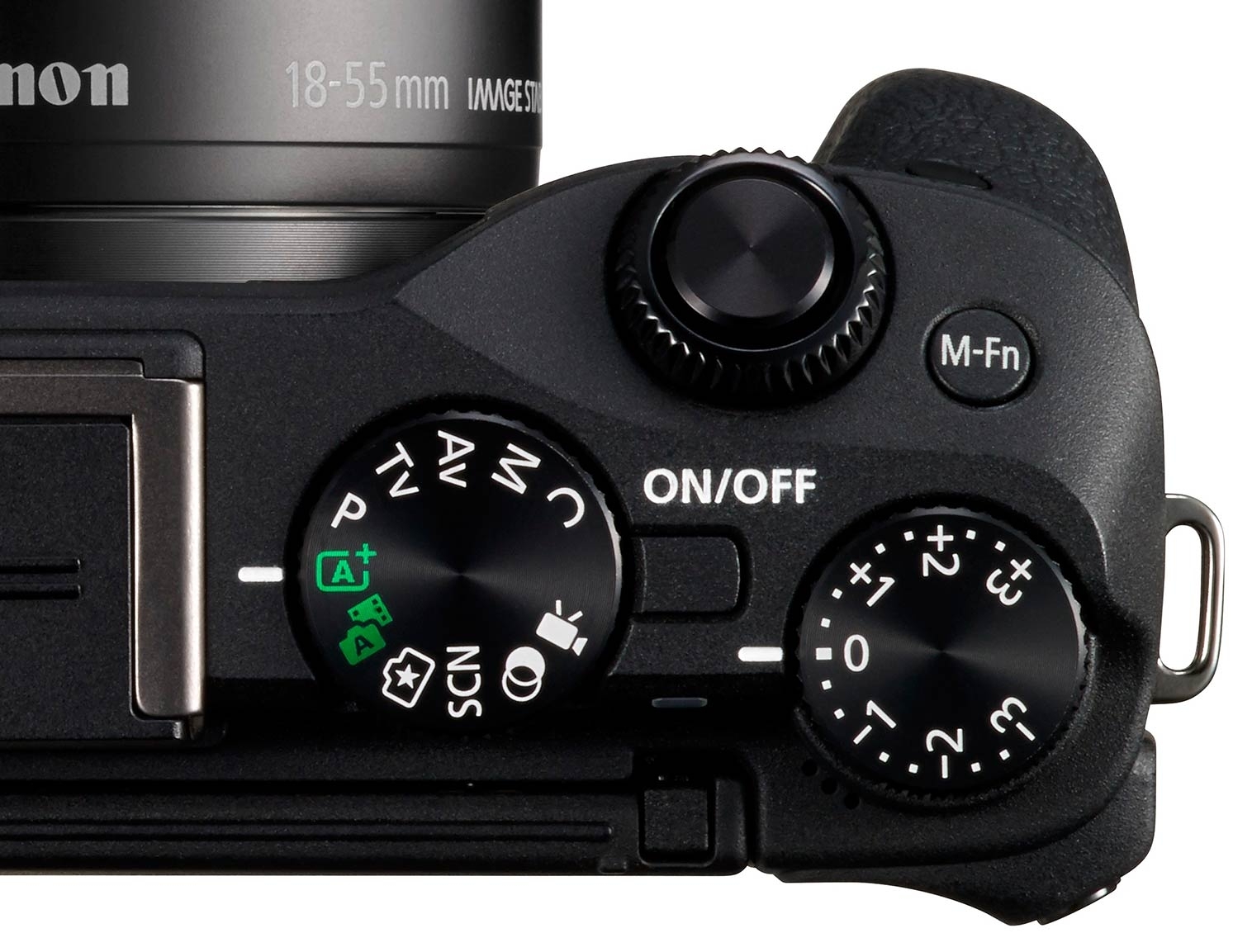 In Use and Battery Life
There's nothing better than a positive frame of mind and with all that weight gone I have to say I felt liberated. I became even more inventive, feeling unrestricted and yet still incognito. Knowing it's 24mp made a massive difference to my mindset. Unless it's a feature packed body with a good sensor and versatile lenses, I easily lose interest. The Canon M3 sits perfectly in middle. I can wander unnoticed, feeling professional without looking professional, knowing that everything I capture could be used commercially. Now that's powerful.
With such a lightweight system, my recent trip to the Loire Valley was the perfect test for the M3 system. A mix of landscapes, architecture and castle interiors meant every conceivable style, focal length and ISO could be tested on real world subjects. From misty chateaus to harpsichords and spiral staircases, the M3 was capable of all. The flip out rear LCD adds to the versatility, a feature I have loved since the Canon G3, but it's the EVF that really pushes the camera's strengths to the next level (see below)
So how long will a fully charged battery last? Smaller more compact batteries will predictably last less time than a DSLR battery, but the expect a full day of charge if your shooting and image reviewing is conservative. The EVF will take more power to support, so an additional battery and charging regime is necessary. The camera is so much fun to use and the screen is so vibrant that you want to use it, a lot, so I suggest getting another battery.
The LCD
It's big, colourful, bright, crisp, touch sensitive and highly versatile. Canon designed this perhaps with the selfie in mind, but certainly for recording video – the screen can be flipped a full 180º to face the blogger, with Record triggered from a remote accessory or cable release. Personally I favoured the EVF once I started using it, but there were times when the screen was invaluable. You can get around all sorts of awkward compositional situations with the LCD at 90º, from shooting really low to the ground, shooting vertically upwards and even round corners. If it had the ability to rotate as well it would be utterly perfect.
I must say I really enjoy using the touch sensitive screen. This was extremely useful when changing the focusing point and if that's the only feature you use, I recommend it. Menu hopping is a total joy, it's far better than menu trawling of other cameras. Canon have always excelled with the simplicity of their menus and this only makes navigation easier.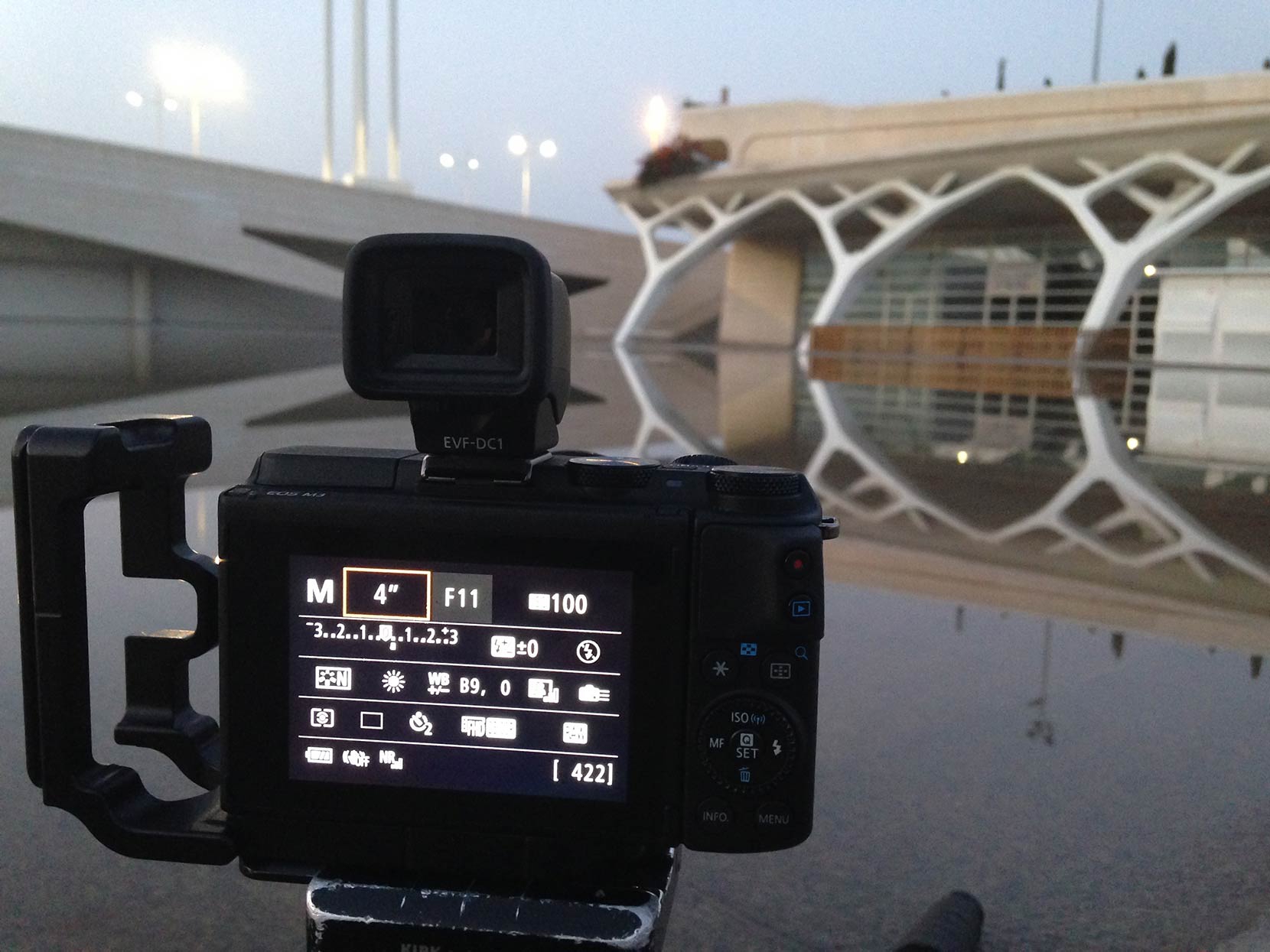 Features and Menus
If you are a 5D3 user or similar, you'll be happy to find most basic features are included in the Canon M3. The layout is naturally similar, as the firmware borrows the look and style of all modern Canon cameras. They are all grouped into familiar colours with the same progressive order. The MyMenu featuregets rid of all the monu digging by allowing favourites to be 'saved' into one menu. It's a brilliant system I use on all my DSLRs.
There were a few menu idiosyncrasies that I would like to see changed, the main one is the missing 'K' White Balance mode, which I miss. Riding the colour temperature as the light changes (when shooting sunsets, or low light for example) can produce very accurate looking results that aid post processing immensely. The only way to change to a custom WB is to use the WB correction feature (a small XY graph that applies the changes to all WB settings) or the Custom WB setting, by measuring a photo in playback. Bring back the K is what I say.
Also the camera does not remember certain settings on power down / power up. If you select 2sec timer, power down, change lens, power up, it has to be selected again. It's just a minor firmware tweak surely that I would like to implemented in future updates.
The Electronic Viewfinder
This is the first camera I have ever used with an EVF and it's a great addition to the M3, which I recommend buying before any other accessory. Effectively the EVF replicates the LCD information; think of it as a digital loupe that slides into the flash hotshoe. Raise your eye to the window and the rear LCD shuts off, so you don't end up changing settings accidentally with your nose. It has a dioptre for those who wear glasses and I have to say the detailed screen is bright, colourful and easy on the eye.
The EVF is also a right-angled EVF and this makes it ideal for travel photography and interiors in particular. Those neck breaking church ceiling shots are now a thing of the past. Lining up without a tripod can be a little tricky, so enabling the grid can only help. There is another slight firmware issue that could do with being addressed - grid is only visible when all the onscreen data is visible, again only minor.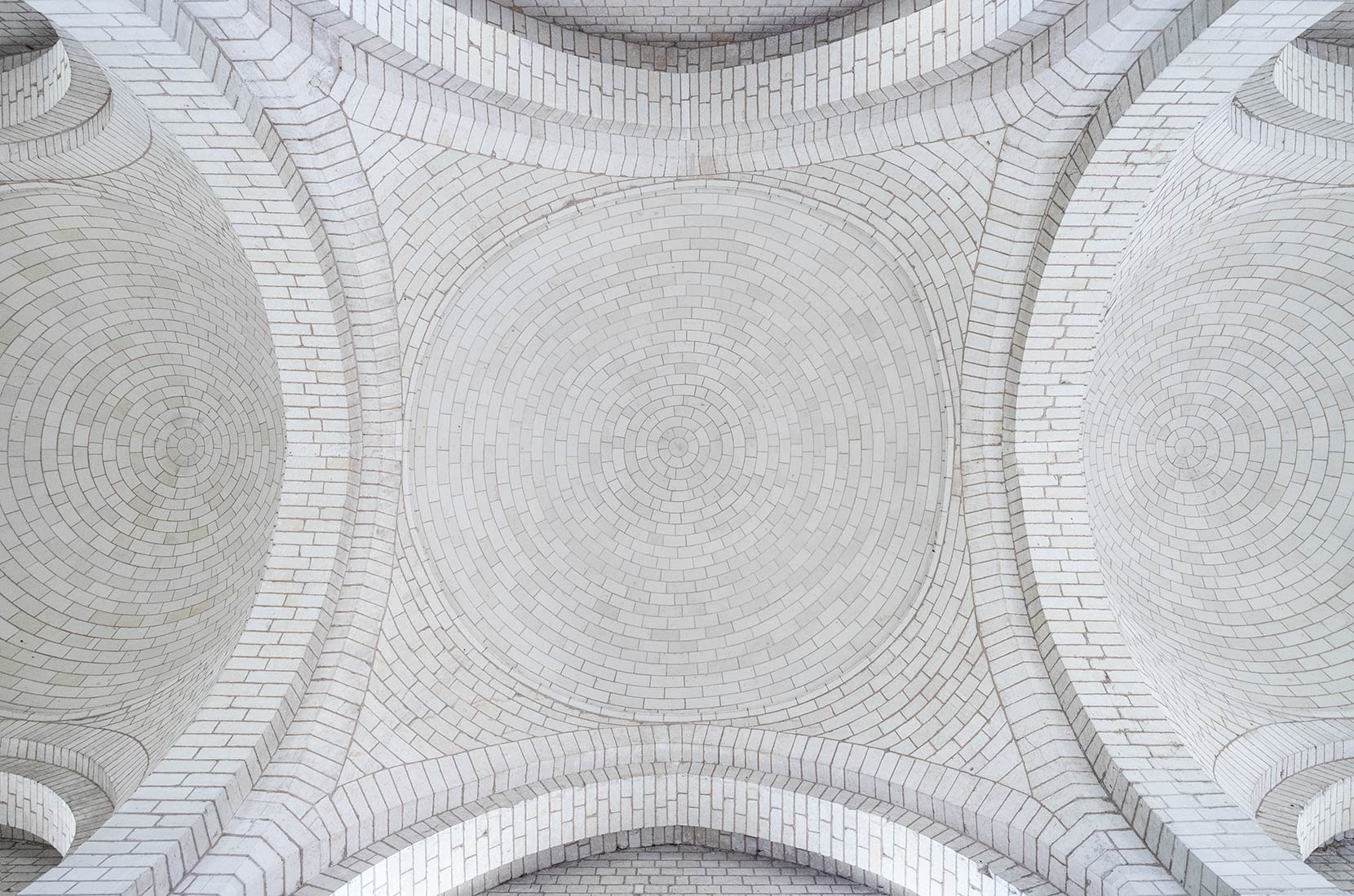 Although in the timeline of mirrorless compacts this next feature is nothing new, but it is such a joy having the histogram / level in the viewfinder when you are composing an image. You can also review images through the EVF and I even found myself zooming into them without removing my eye from the rubber eyepiece, so I didn't have to go through the aggravation of realigning the camera. That's genius, a typical example of where this camera excels.
The only downside has to be in lowlight, when the EVF tends to become a little noisy, more so than the rear LCD, which is far easier to focus at either end of the day. The EVF loses clarity and frame rate, but this is the only area I could fault this wonderful add-on to the M3 system.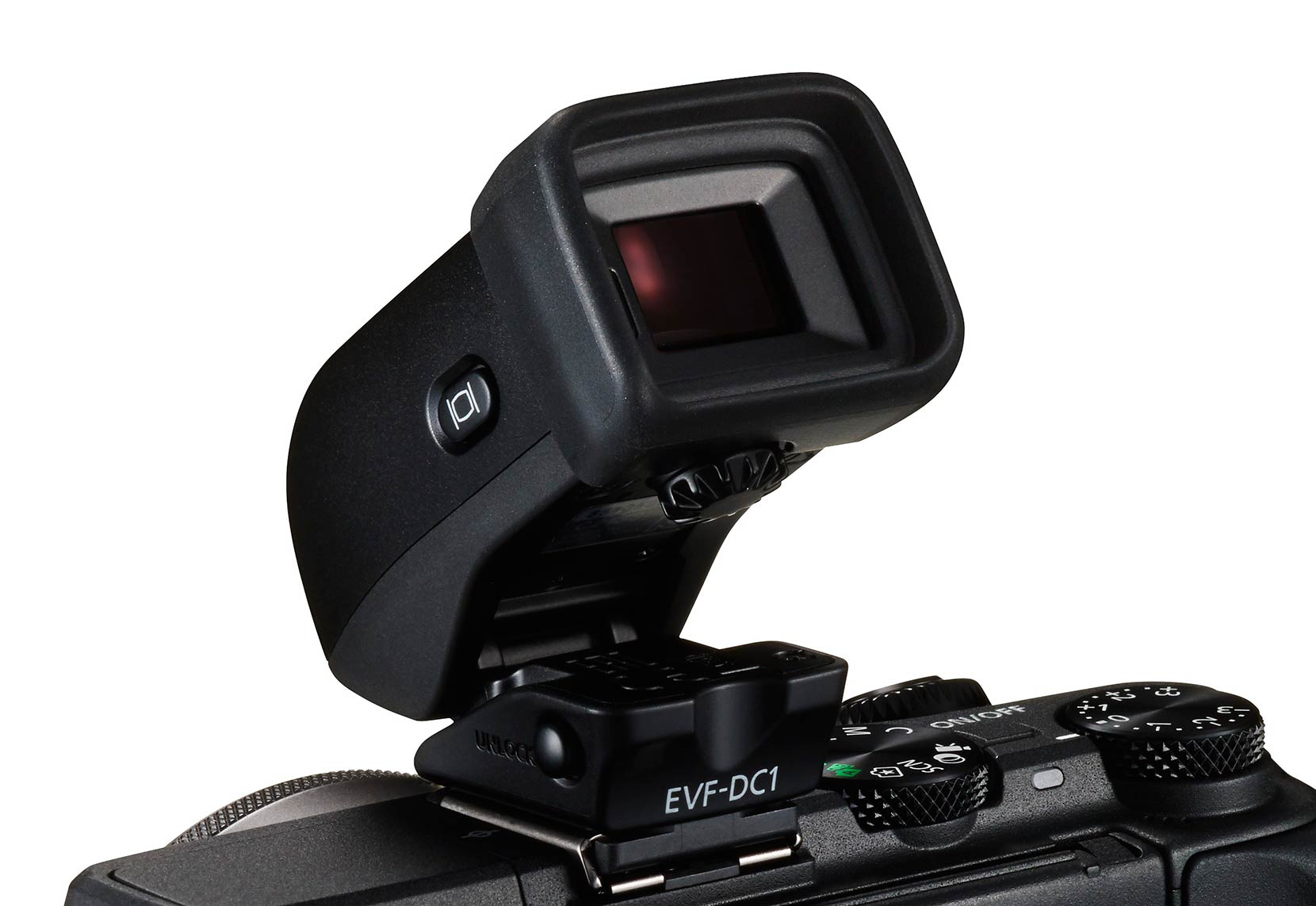 The Lenses
I read a lot of conflicting material from reviewers, but I can conclude that they are all exceptionally good and perhaps worthy of a small red rubber band around the barrel. It is easy to classify miss focusing or depth of field loss as a sharpness issue, easy for the hurried reviewer to misinterpret, especially with smaller contrast-based AF cameras. Believe me when I say there is no slouch lens in the line up.
Diffraction – with a smaller sensor, diffraction is going to become visible far sooner than a full frame lens, so don't assume the sweet spot is in the same f11 place. The same goes for medium format and large format optics that are designed to be shot around f22 or even higher. I recommend keeping all the EF-M line up at f5.6 to f8 for the sharpest corners.
Image Stabilisation – what's the longest shutter speed you can hand hold and get sharp results? How about half a second? Well that's possible with a lightweight camera and a good bracing technique. I found myself trusting the M3 and IS lenses even when speeds were down to single figures like a 1/10th sec. I even managed to push things to ¼ sec at arms length! I can't imagine ever being able to do this with a DSLR unless I reach the title of black belt in photo-yoga.
Chromatic Aberration and Vignetting – all of the lenses show chromatic aberration, but it is so minimal that it is perhaps not worth writing this section. The 11-22mm shows a -1.5EV drop in corner light levels at the wider end, the 18-55mm has only subtle vignetting if any. There was no Lightroom profile available for the 55-200mm at the time of writing, but I can't see anything to suggest any vignetting issues.
Distortion – there is only minor distortion at the wide / long end of all the lens, again easily corrected with profiles in Lightroom. None of it is as severe as some of the full frame lenses I have worked with over the years, so there's no need to worry.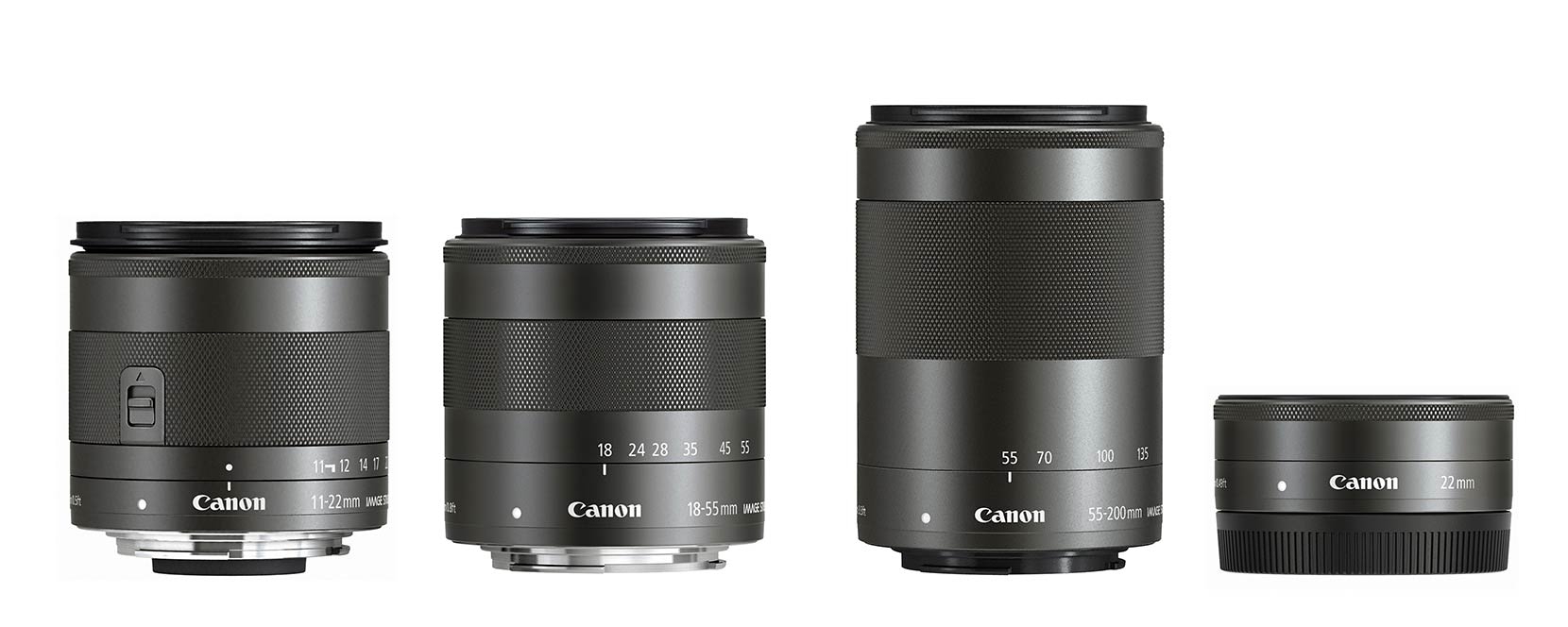 Canon EF-M 11-22mm IS f4-5.6 STM (18-35mm equivalent FF) - £319
Wide angle lenses are notoriously difficult to design. To make one this small must be even more complex, but the 11-22mm is just superb. Again, I have read about photographers actually complaining that it includes IS (!) but I have nothing but praise for this superb wide angle. The lens is an 18-35mm equivalent, which makes it ideal for landscapes, interiors, museums and ceilings in particular. Without IS, many of the lowlight shots I attempted would have been lost. It's pure gold. Sharp side-to-side wide open with the corners being at their best at f5.6-f8
Canon EF-M 18-55mm IS f4-5.6 STM (29-88mm equivalent FF) - £149
This was certainly my most used lens and thanks to Lightroom filters I've just calculated that used it 46% of the time in the Loire Valley. I find most of my compositions are 'as the eye sees' and this lens is a perfect walk-around either indoors or out. It is only a fraction longer than the 11-22mm in physical length so the pair marry together well. I bought a 52mm Hoya polariser for £20 in the airport, which is a welcome addition to the outdoor photographer. Again, sharp side-to-side wide open with the corners being at their very best at f5.6-f8
Canon EF-M 55-200mm IS f4-5.6 STM (88-320mm equivalent FF) - £245
This lens almost covers the range of my beloved 70-300 f4-5.6L IS so it was wonderful to have a familiar focal length available to the Canon M3. I am just repeating myself here by saying it's a brilliant lens, super sharp, but may I add how easy it is to handhold such a long optic. The focal length is so useful, for longer-range landscapes to museum wall details. Again, I bought a 52mm polariser for the lens which remained on the front of it unless I shooting indoors.
Canon EF-M 22mm f2 STM (35mm equivalent FF) - £179
The lens that has created the most sturr in the line up, but it's the only one without IS. It was the least used over the review, but that is down to the work I do. I rarely have a need for wide apertures when I travel, but the lens is pleasing both ergonomically and aesthetically. No one can say the M3 is a pocket camera, but this is as close as it gets with the 22mm attached. At f2, the bokeh is really smooth and very pleasing on the eye, creating a vivid 3D look. It's nice and sharp edge to edge with some easily corrected vignetting.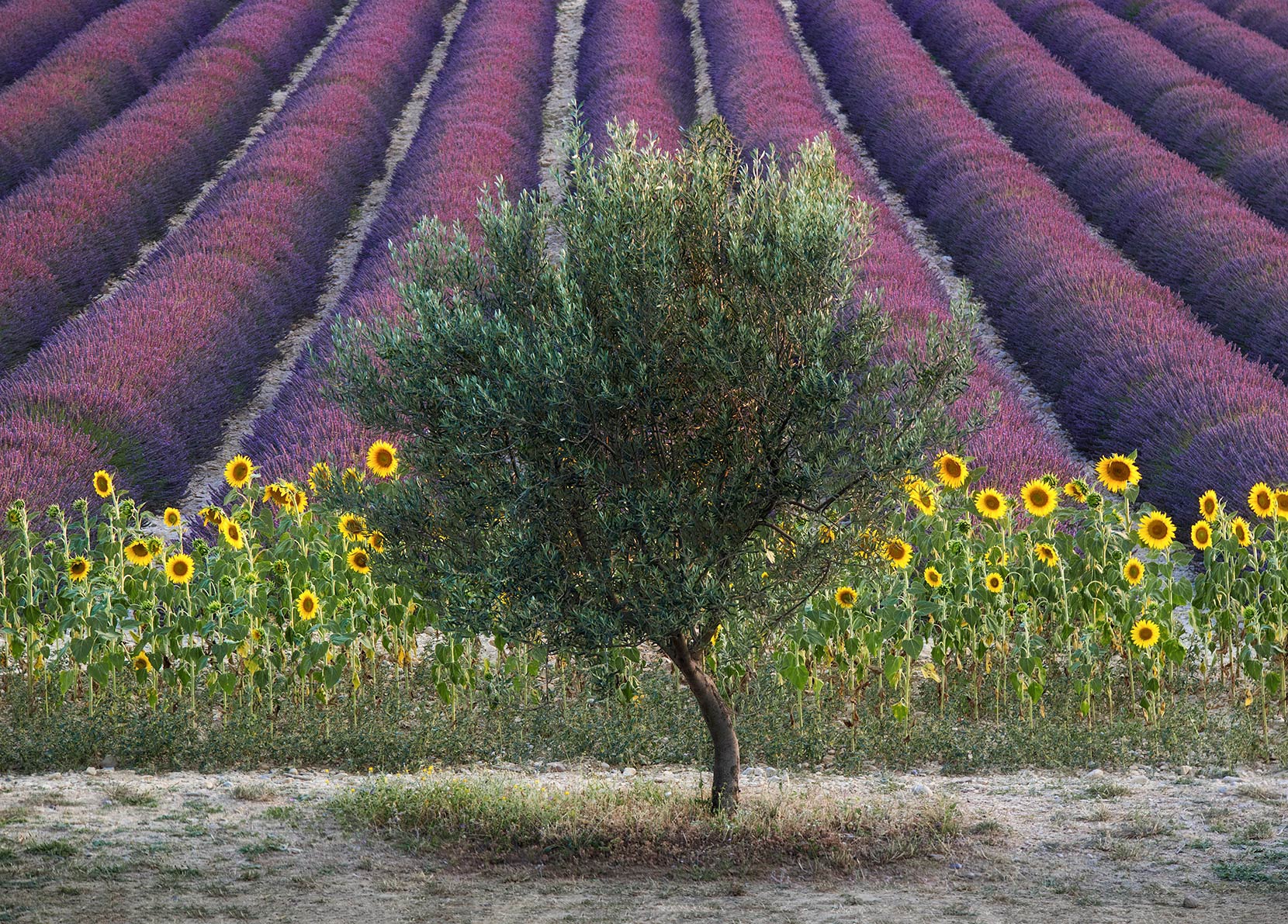 The Sensor
It still amazes me how a digital sensor even works, but when you gaze over that impossible bluey green, it's hard to comprehend the 24.2 million pixels on a 22.2 x 14.8mm rectangle. It shares the same sensor as the 750 / 760D which is certainly no slouch. The colour is that wonderful Canon colour; engaging, accurate and vivid.
Although my ISO assessment has been nothing but real world, expect the expected for a borrowed 750D sensor – shoot ISO100 to a maximum of ISO1600, when indoors or in low light. ISO1600 is the limit here and although it does contain noise, it's easily reduced with good technique in RAW software. Remember the days of the 12mp 5Dmk1? I could have only dreamed of that performance in a full frame DSLR and it is available in a small mirrorless system. I am fine with these minimum's and maximums – as a travel photographer I remain creative at all times.
Coming from a 20mp 6D, the file 6000x4000px RAWs are bigger than my DSLR, which stands at 5472 x 3648px. I have remained in the wings regarding the whole megapixel race for a considerable time, until this year that is. Once it reached 21mp, with the 1Ds3 in 2008, I found it had little relevance in my own rights managed professional world, with ISO and dynamic range being far more important. Now that the 50mp 5DS / 5DSr has set the standard, cropping into images has now become of real interest to me.
I work with agencies who require minimum file sizes, so I rarely crop a 20mp image, or it falls below the size acceptance threshold. The M3 sits comfortably above this limit, which brings me to the next section – crop modes.
Crop Modes
There is one feature about trialling the Canon M3 that changed everything for me – crop modes. Earlier this year I bought a few old film cameras apparently for the 'fun of it' (and its been a wonderful and shall we say complex experience). It is here that I learned to shoot square format with a Mamiya C3. It's a 1962 twin lens reflex that takes 6x6cm shots on 120mm roll film, the original Instagram camera in other words. I had no idea how much I loved square, so to find the M3 had square format was like coming home.
Here are the crop modes and their relative megapixel sizes. You can see that there is no reason to hesitate –
Standard 3:2 24mp 6000 x 3376
Panorama 16:9 20mp 6000 x 4000
Four thirds 4:3 21mp 5328 x 4000
Square 1:1 16mp 4000 x 4000
So the biggest dilemma with cropping any image is that the file size becomes too small to make prints or to be commercially useful, but with 24mp this is far less of a problem. In this instance, all the files except the square crop are above the criteria for most agencies.
To be honest, it's a relief to break free of the 3:2 ratio, something I truly love abou the 5Ds / 5Dsr. It's surprising how many compositions do not work unless the ratio is changed, but also just how many photographers are unable to see beyond this framing. The M3 changes that and makes you a better photographer for it.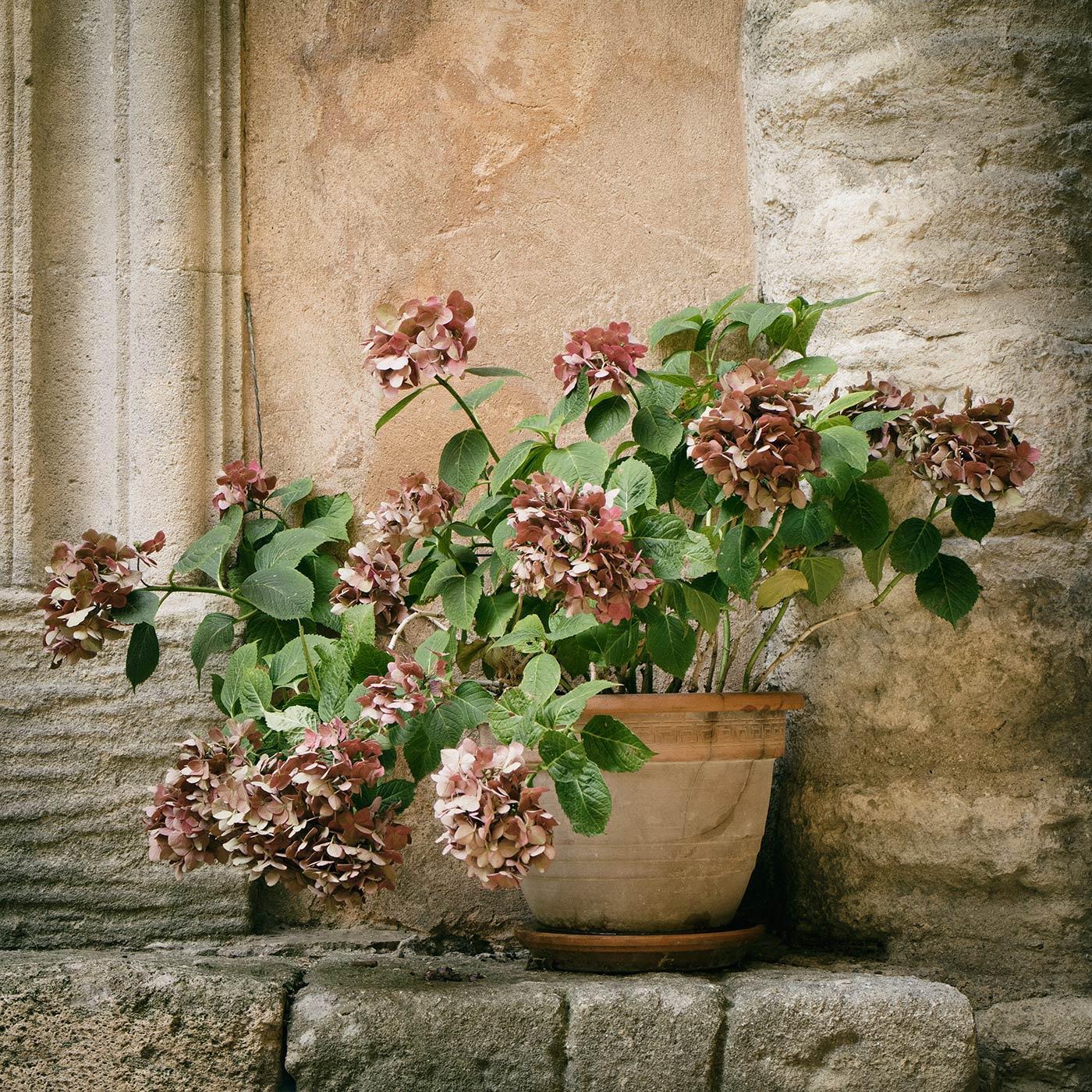 Autofocus and Frame Rate
The original EOS M suffered from slow focusing, but the M3 is a massive improvement. Focusing locks in under half a second, using contrast detection. On static subjects this is effortless, with only the usual low contrast subjects causing problems. It's never a good idea to risk just one photograph on a composition, but after assessing batches of images literally all were in focus. I have read other reviews complaining that the autofocus seems to favour the background, but I never found this to be an issue, unless the subject was very close to the camera. As for focus tracking, I have to say I cannot comment on this subject and to be honest I don't think it's fair to compare, as the M3 is not designed for action photography.
The technical specifications highlight that the camera is capable of shoot 4.2 frames / sec which is more than enough for most situations. Although most photographers will use the camera in single shot mode, the burst works well.
If I do have one criticism here - shutter lag. It is hard to time photos when a moving subject enters the frame as the lag sits at around 0.2secs. This doesn't sound much, but it can make or break an image, like a person walking into the frame. Using the burst function can be considered as a work around, but some improvement could be made here.
When it comes to moving subjects and focus tracking, smaller cameras never fair well in this arena. Compact's are not the right tool for the job, so if movement is a priority in your work, then the answer is simple - grab you DLSR.
Focus Peaking
Another new feature to my photography that made me fall in love with the M3 even deeper, is Focus Peaking. It only works in manual focus, but when the camera is having difficulty locking on to low contrast subjects, simply engage MF and your focal point will be highlighted in red, yellow or blue.
It works by assessing contrast, looking for the point of greatest contrast (the focal plane) and this can be highlighted in a number of selectable colours. Surely we will see this feature on Canon DSLRs in the future as other compact features, like Live View made their way to the DSLR with the 5Dmk2. Either way, focus peaking is a marvellous feature that can aid those have difficulty focusing, those who have restricted vision or even when focusing in lowlight.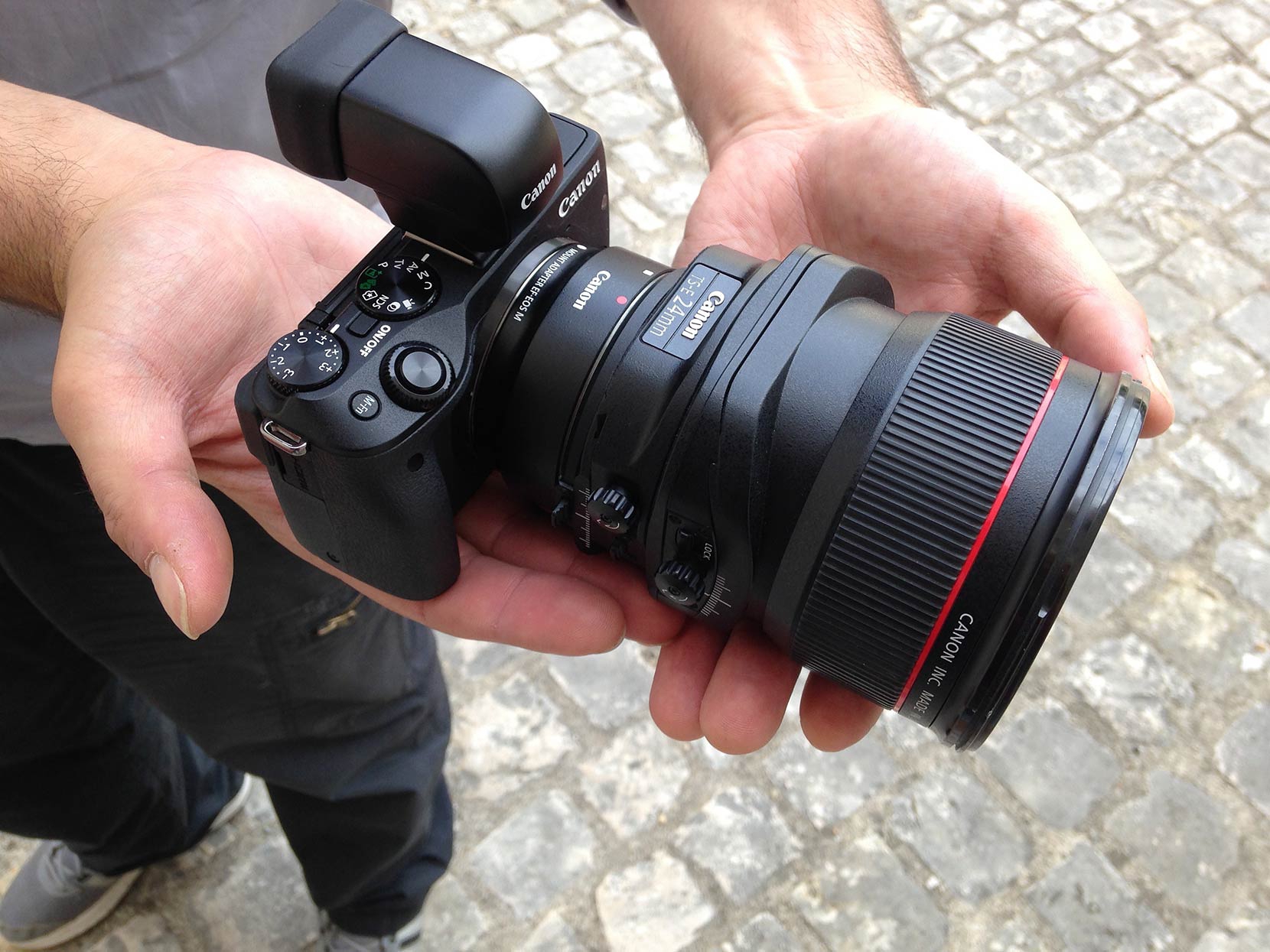 Using the EF lenses
I managed to use the M3 with a couple of lenses – the 24mm TSEmk2 and the 70-300mm f4-5.6L IS. The TSE becomes a 38mm on the crop sensor, a useful focal length for architecture and interiors (as the popular 45mm TSE sales still highlight). The 70-300mm becomes 112-480mm. As expected, it's the 480mm focal length that becomes most useful for exciting long range imagery. Just by carrying the M3 alongside my DSLRs, I can now extend my lens range should I need to, and remember that's 480mm at 24mp – that's a huge benefit.
Autofocus works, but its slow and a little patience is required. The fact that it even works is fairly remarkable, so I am not marking it down. I will probably only use these two lenses when working the M3 / EF combo. Switch to a tripod and MF / focus peaking for the best results. You wont be shooting an M3 Grand Prix on the 70-300, but think long range misty landscapes in particular – it's going to mean leaving the longer lens at home.
Value for Money...
So home much does the Canon M3 cost? At the moment the M3 + 18-55mm kit lens is on offer for around £519. If you want the EVF viewfinder bundle it's £699. If you were to buy the whole kit, that's the EOS M3 + 18-55mm + EVF (£699) - the 22mm pancake lens (£179) - the 11-22mm (£319) - the 55-200mm (£245) then you would be spending a total of £1442. Unless you are needing shallow depth of field for street photography and isolating subjects you could easily leave that out and reduce the total cost to the same as a DSLR body like the 6D. If are considering a purchase instead of a DSLR, then consider the saving you make as a FF body and an L series lens will cost considerably more, unless you shopped for grey imports.
If you consider this as a backup / companion for a DSLR then let me point out firstly you cannot buy the body on its own, you will have to buy the kit with the 18-55mm lens. Thats no extravagence. The camera can take on multiple uses when you are on location, from record shots, to recording video, blogging and other potential uses. Some retailers are even selling the camera with the EF adapter included, so shop around.
Conclusions
Unlike other reviews, I have had the luxury of time, allowing me to get under the surface of this camera without falling into the dreaded comparison conundrum. Click baiting can make the consumer so deluded that its near impossible to cut through the sensationalism to get to the important facts, like whether the system is actually worth buying into at all.
The M3 has done exactly what I hoped it would do and now sits alongside my extensive DSLR kit, confidently under donning the label 'professional'. I will now confidently reach for a far smaller camera bag over and above my DSLR's for daytime shooting, discrete photography or simply when I need to travel light. The body, lenses, build and sensor performance do not comprise image quality or creativity - in fact they enhance it. Agencies already accept the large image sizes and my clients have embraced the colourful, sharp images it produces. The M3 is truly the compact camera I have been looking for my entire professional career.
Also, I cannot stress enough how this small camera has changed the way I look at photography. The crop modes have made me wonder how many past images I possibly missed. Now, I can match a crop mode to the composition and get the shot almost every time. I adore composing in square format but I also use the 16:9 mode for quick panoramas. Many photographers could do with learning this valuable lesson. A change in crop mode could be all that is needed to decode the puzzle, rather than walking away from an image, feeling that it just wasn't strong enough. All the crop modes other than 1:1 are above 20mp, so rarely will it dip below the quality limits asked of agencies and clients.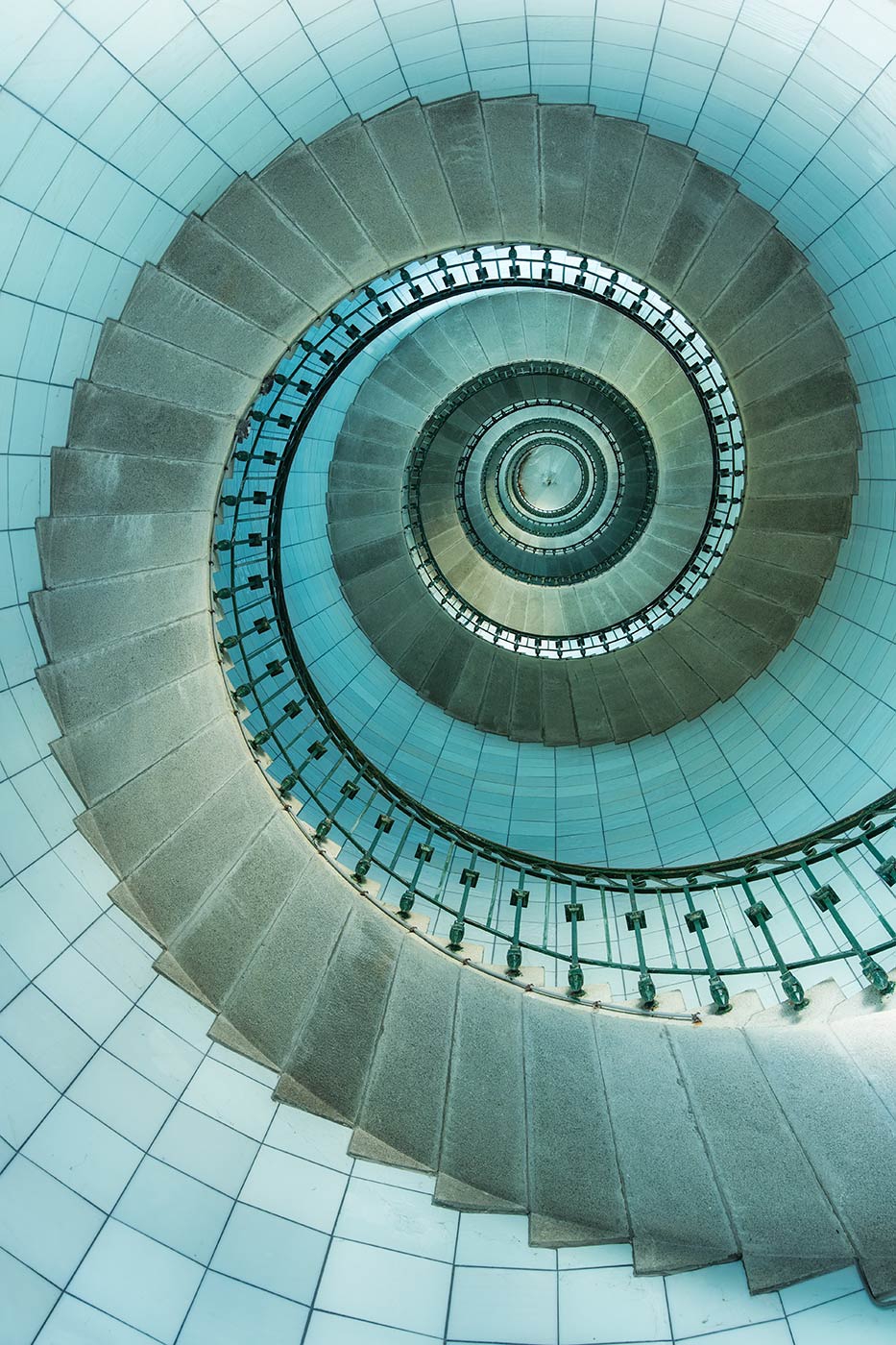 I also never considered how powerful a crop sensor DSLR would have been alongside my full frame cameras. I naturally have investigated the 'extra reach' debate, but it's not often I need this as my EF lenses cover most eventualities. Yet I stand corrected - the power of huge depth of field at wider apertures is so useful and the camera saved me many times, in low light and when tripods were banned. With the EOS M3 adapted to my fit my EF lenses, I now have the potential of a range of extra optics, all at 24mp, with the ability to shoot almost 500mm landscapes from a 70-300mm f4-5.6 L IS.
The EVF is so useful. Being able to compose vertical ceiling details is a massive strength. No more neck straining or awkward tripod angles. Combine this with the rear LCD and you can get yourself into all manner of angles that would never have seemed possible. You stay inventive and fresh rather than reluctant to unpack.
If you've been lugging too long, travelling the never-ending road loaded down like a pack mule, then perhaps it's time for a rethink. There is nothing better than a 1.2 kilo setup that packs 18-320mm full frame equivalent into a small bag. Other mirrorless systems offer an alternative to the DSLR but many do little to reduce the size and weight significantly. The EOS M3 does this perfectly, without feeling like a toy camera.
It's discrete, powerful and far from a compromise. With its myriad of uses for the travelling photographer, the M3 system is an absolute winner.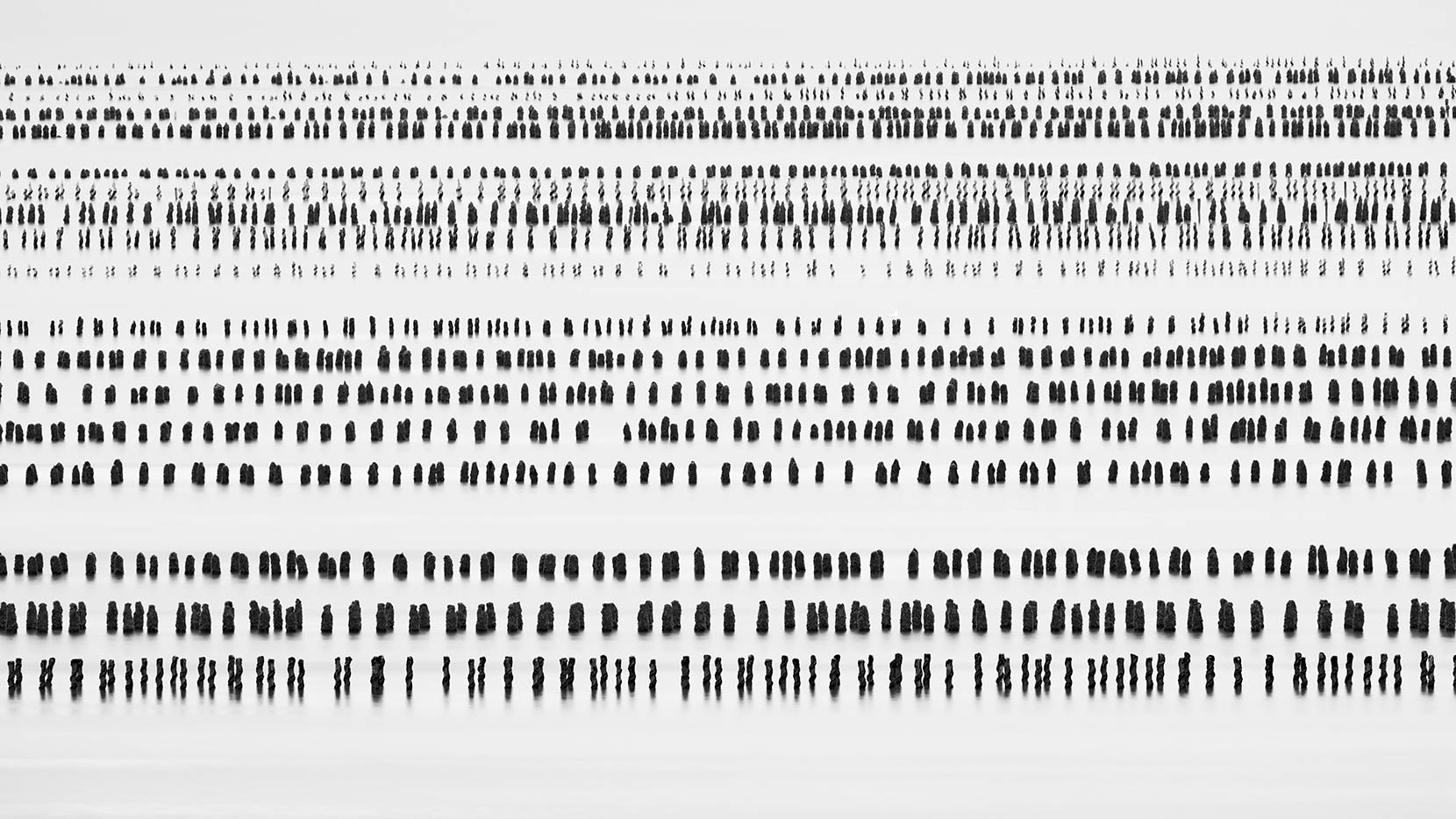 If you are interested in the EOS M3 as an addition to your kit bag, have a look at the sysytem from a highly recommended retailer - Park Cameras
https://www.parkcameras.com/p/1013123G/compact-system-cameras/canon/eos-m3-18-55mm