Bose QC20i vs QC15 Headphone Comparison
Bose QC20i vs QC15
RRP - £259
If you are a frequent flier / commuter and you have considered noise cancelling headphones as a way of warping lengthy travel time, read this mini review of the leading NC products from Bose.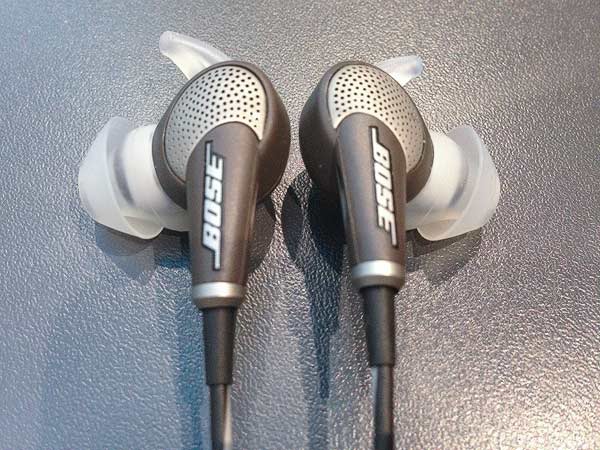 The QC20i's seem rather large especially with the rubber frames, but fit surprisingly well

Beautifully Designed
The Bose QC20i's are a quality build. Thick cables, a soft rubbery feel and in audiophile brown, they ooze a compelling listen just from first glance. Although they look sublime, do they sound sublime? There is a switchable noise cancelling amp that recharges from a laptop or USB supply and all this fits into a soft fabric pouch, about the size of a Snickers. The headphones will even run without battery power, which is a an advantage over QC15, but they aren't exactly power hungry and a stadard AAA battery will last many hours.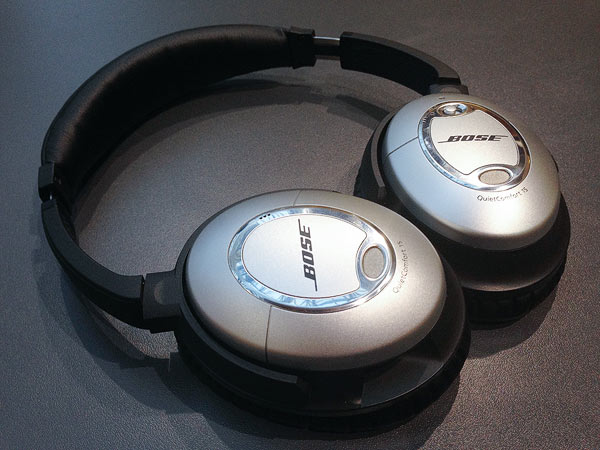 You will have to wrench them from my dead hands - essential for entertainment / sleeping on long haul
Putting them in ear was easy despite the initial thoughts of 'how the hell am I going to get that in my ear / surely they'll fall out' – they fit surprisingly well and the supporting rubber surround keeps them in place. They were still seeking my attention, not fully settled in even some 20mins later, but they were very comfortable, unlike my audiophile Grado's.
Sitting here in Keflavik airport, I pulled out my own trusty QC15's and back to backed three styles of music – rock music 'Sat By the Ocean' from Queens of the Stone Age, then to Jon Hopkins – 'Sun Harmonics' from his incredible album 'Immunity' and to some further delicacy - Vaughan Williams 'The Lark Ascending' (the 1970's St Martin in the Fields / Nevil Mariner recording is 'the one')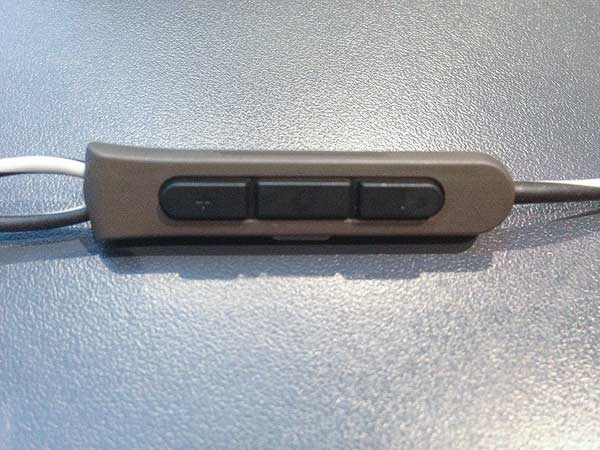 The phone microphone and iPhone style controls are most welcome
Sound Quality
The QC20i's cover the spectrum well. I began listening with the NC switched off, to gain an understanding of the range these smaller speakers could project.
Although the noise cancelling is simply superb for in-ear buds, (they're great for sleeping as well as music) I can't get past an inherent audio flaw. They sound more engaging with the noise cancelling switched off! As soon as the battery pack is engaged it pumps a shrill upper midtone boost into the earphones which disengages me from the music….hmm. They sound scratchy and pushed, losing dimension and presence as the distracting sound around you dissolves, but turn off the NC and they immediately appear far more musical again. This is not what I would have expected at all.
I can imagine these must be very difficult to design in such a small size and when you consider what they are doing (subtracting background noise with an inverted sine wave). Noise cancelling is certainly a remarkable engineering achievement – but that doesn't make them a super listen or great set of travel headphones. After 15mins or so I started to feel rather unconvinced and began staring at the QC15's.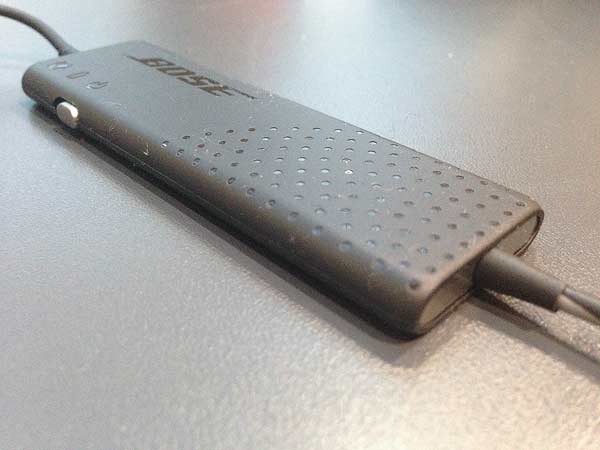 The Power Pack - Sadly you cant replace it when it cant hold its charge

Conclusion
So let's swap for reference. I ran the same test tracks and headed further into Eskmo's 'Cloudlight', which sounded utterly 3D. Then more Jon Hopkins it was here I isolated the differences entirely. The QC15s are full sounding, with immense stereo width, yet surprisingly with delicate music they can be cinematic, atmospheric, all with the rumble of a 737 in the background. The QC20i's just don't engage the listener, sounding shrill and barking, which is very difficult to get past. The QC15's NC works so well, you forget where you are, so they are more like a high end PA system or a great seat at the cinema than audiophile – they are rich, detailed and lively, which I am sure is down to their larger diameter speakers over the smaller and it is here that they stand apart. Thankfully, a noisy environment is of little problem for either headphones and they cancel your surroundings beautifully, but it is the QC15's that remain superior due to their dimension and absorbing listen.
For travel, the QC20i's have a huge size advantage, which means they are bound to become seriously popular with the frequent flyer / commuter. Offering this level of isolation is such a joy among a crowded world, but with its shrill upper end I know which one I would reach for every time. Could they need breaking in? I'll never know as they are now somewhere in mainland China.
So therefore - the Bose QC15's, with their comfortable over design, soft cushioned cups and impeccable sound quality still remain the headphone to beat.

Both headphones retail at £260 - a good move by Bose to avoid the decision to buy being financial rather than practical.