Acratech GV2 Ball Head Review
Acratech GV2 Ball Head Review
Cost - £340 with Level Locking Lever
Acratech Website
Bob Rigby Photographic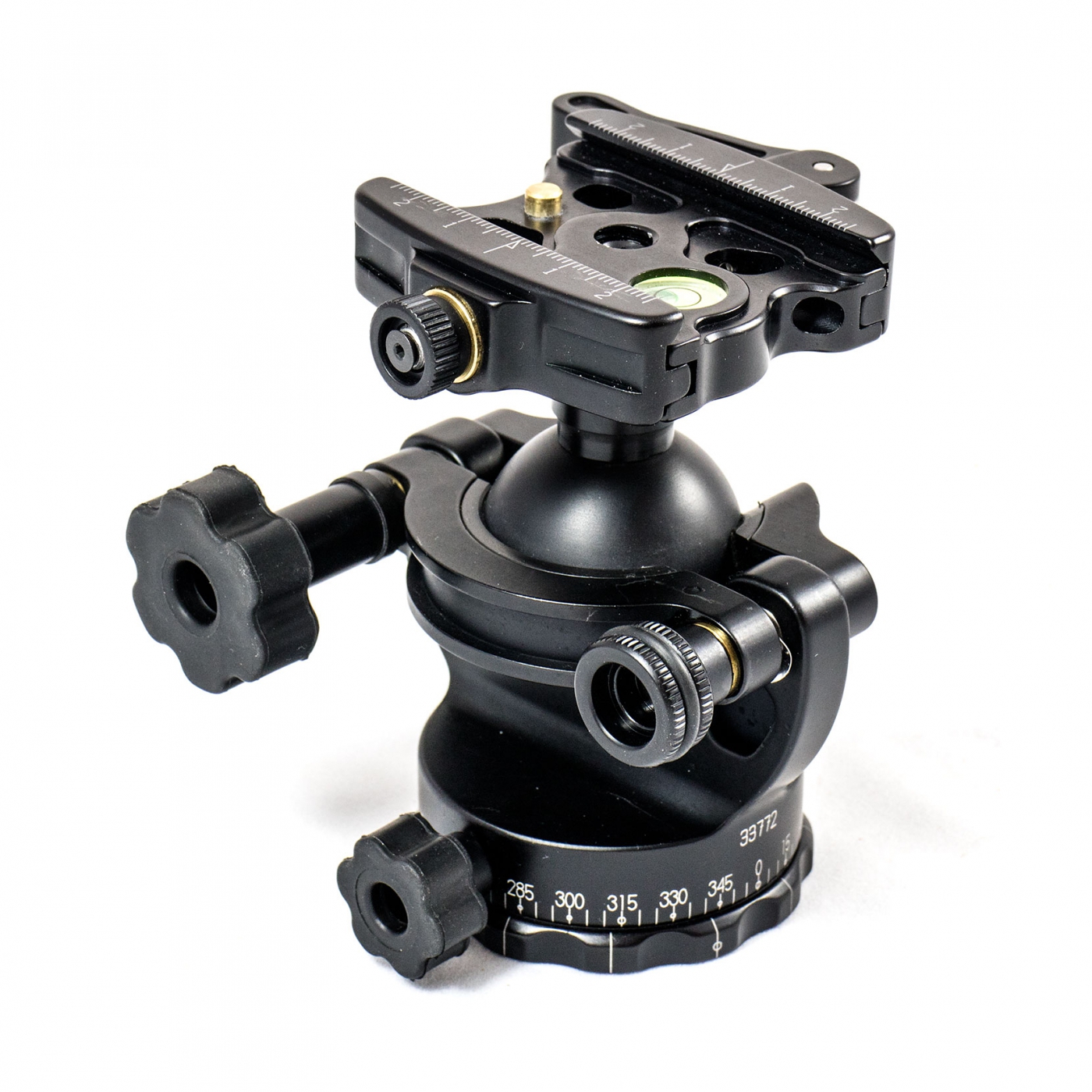 Specifications
Weighs less than 1 lb (.45kg) with quick release clamp.
Easily holds over 25 lbs (11.4kg) at any angle.
Full movements allow any camera position.
Fully adjustable tension control.
Precision C.N.C. machined.
Compatible with Kirk, Arca, R.R.S., and many other QR plates.
Beautiful satin black anodized finish.
Fits all standard tripods (1/4-20 and 3/8-16 threads).
Engraved degree markings.
Solid precision feel.
Ball will not shift when tightened.
Oilless and greaseless ball will not attract or hold dirt and debris.
All knobs are secured so they cannot vibrate loose and fall off.
After returning from a Light and Land trip to Iceland in the middle of January, the slow technical breakdown of my beloved but eleven-year-old Kirk BH1 had become more than apparent. It had succumbed to every man's worst nightmare – ball corrosion and lack of stiffness when performing. As a big fan of arguably the world's most indestructible ball head, I was dead set on a straight replacement, but decided to have a good look around first.
Ideally I would like something even better to compliment my lighter Gitzo 4542LS setup (ok, its not exactly light) so I looked stateside. Everyone is Really Right Stuff obsessed in the landscape world and really rightly so. They make exceptional but expensive and beautifully engineered products, but although I came close, I didn't complete checkout. I also didn't have to wait three weeks for delivery, or pay VAT as I bought it in the UK. I bought an alternative and capable alternative - the Acrotech GV2 - and here's why.
First Thoughts
Firstly, it was recommended and secondly because I got to use one, which always helps immensely. It's smaller than the RRS / Kirk equivalent and at just 300g it rose immediate concern. Quality often = heavy in the photography world – well not any more. The GV2 is made of aircraft grade aluminium, with superb anodised paint and etched laser degree markings. Attached to the tripod I attempted to hike around my hotel room for a composition; the difference was huge. The tripod now felt more manageable, more balanced in the hand than the front heavy load I am used to - a huge advantage of almost 700g over my BH1.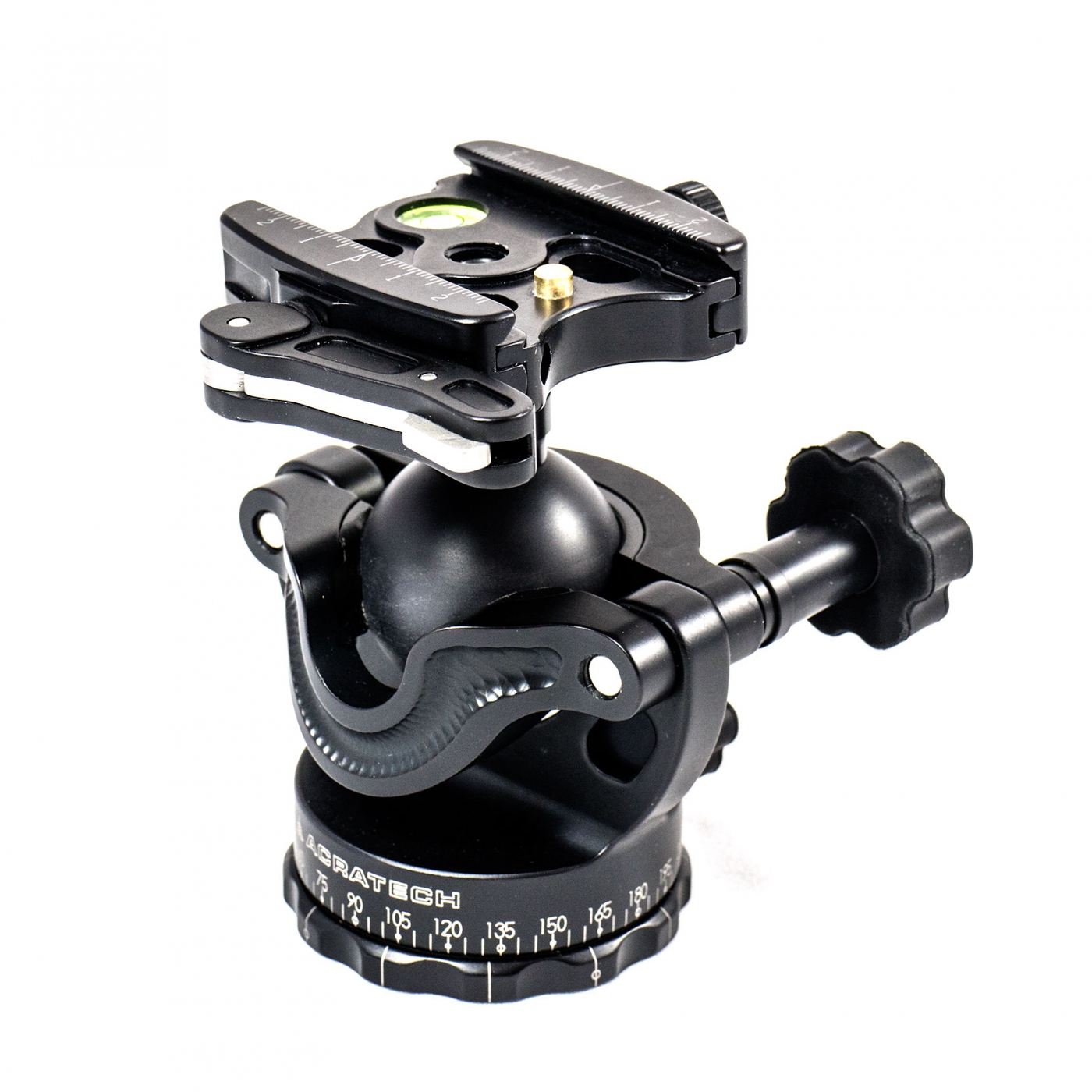 According to the specs, it can support an 11kg load at literally any angle, so I assembled my Canon 1Dx / 70-300 f4-5.6L IS. The knobs are rubber cogs, the main cog being generous in size, easy to tighten with or without gloves. So how does the camera attach to the GV2?
Don't Have Second Thoughts
The Acratech takes the popular Arca Swiss / Kirk / RRS plate system which will delight a lot of photographers. If you are still putting expensive camera gear on a cheap head, you need to look at this now and I mean now. Here I go, I have opened the door - Oh those irritating 3-way heads – those plates with rubber scratch strips… Go and stand on a windy hill top with a 70-200, engage Live View and zoom in by 10x – watch the detailed landscape shaking profusely – it's your plates, its not your L lenses. So smiling back, you smugly cut the rubber off with a Stanley knife, job done David, but it isn't is it - the plate's slip, they spin. Professional? Professional may arse – you tighten them up by fumbling with a fricking pound coin but still they slip - who carries a massive joiners flathead screwdriver in their camera bag?! No one thats who.... and don't get me started on those minuscule butterfly wing tighteners that kill your cold fingers...agh!
Do it right or one evening you will experiencing the slow motion horror, as £3000 of precious kit, the kit you saved for, the kit you endlessly considered, the kit you bored your wife to tears over, the kit worth more than the car you drive tumbles onto moorland granite and clatters between the rocks – all because you didn't buy the right support. Feel the idiocy as you fill in the insurance claim, writhe in self loathing and relive the stupidity on repeat from the train seat to work. Open your eyes, turn on the bedside light, open the laptop and complete checkout - NOW. Invest in an L Bracket for your camera. Metal on metal on fiberglass on metal spikes. You will feel hollow, you will stare blankly at the £120 receipt and glance back at its ludicrous simplicity and feel completely ripped off, but the moment you stand aloft that windy Peak District hill top, the camera clamped as solid as a rock and return with shots that are cuthroat razor sharp, you will know why you did it and it will FEEL GOOD.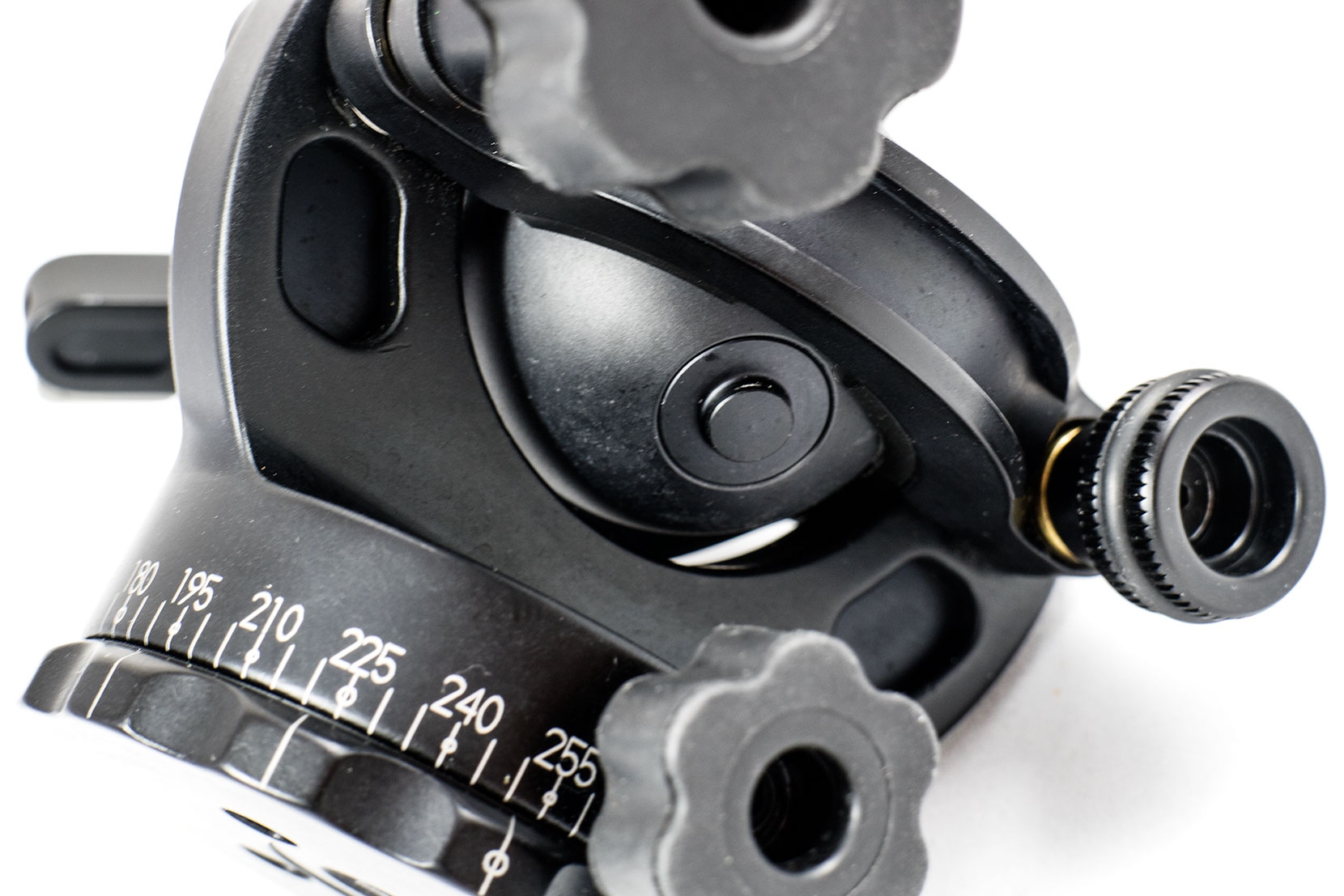 Ok I am calm again - There are a number of clamp options when buying the GV2. I have personally remained loyal to the 'quick release clamp' which in my opinion is not a quick release clamp and needs rewording. The camera is fastened into the jaws by slowly screwing a wheel, the same process as my old BH1. Instead of this, I took advice and went for the 'locking lever' as I do a lot of work at night, in the cold, often wearing gloves. I have to say I am glad I chose this option, which costs a little bit more, but takes away the tedium. It also has a safety catch and it makes releasing and attaching the camera effortless. There's a nice additional feature - a fine tune adjuster on the back, so you can increase the pressure required to lock, or adjust for variances in plate / L-bracket width.
A final note worthy addition is the gimbal design. The head can be used as a gimbal for bird / aviation / sports photographers requiring machinegun like performance with stability. The head turns over into a slot on the side and the camera is attached using a lens collar. I personally don't need to shoot in this way, but for me this means very fast access to shooting vertically upwards.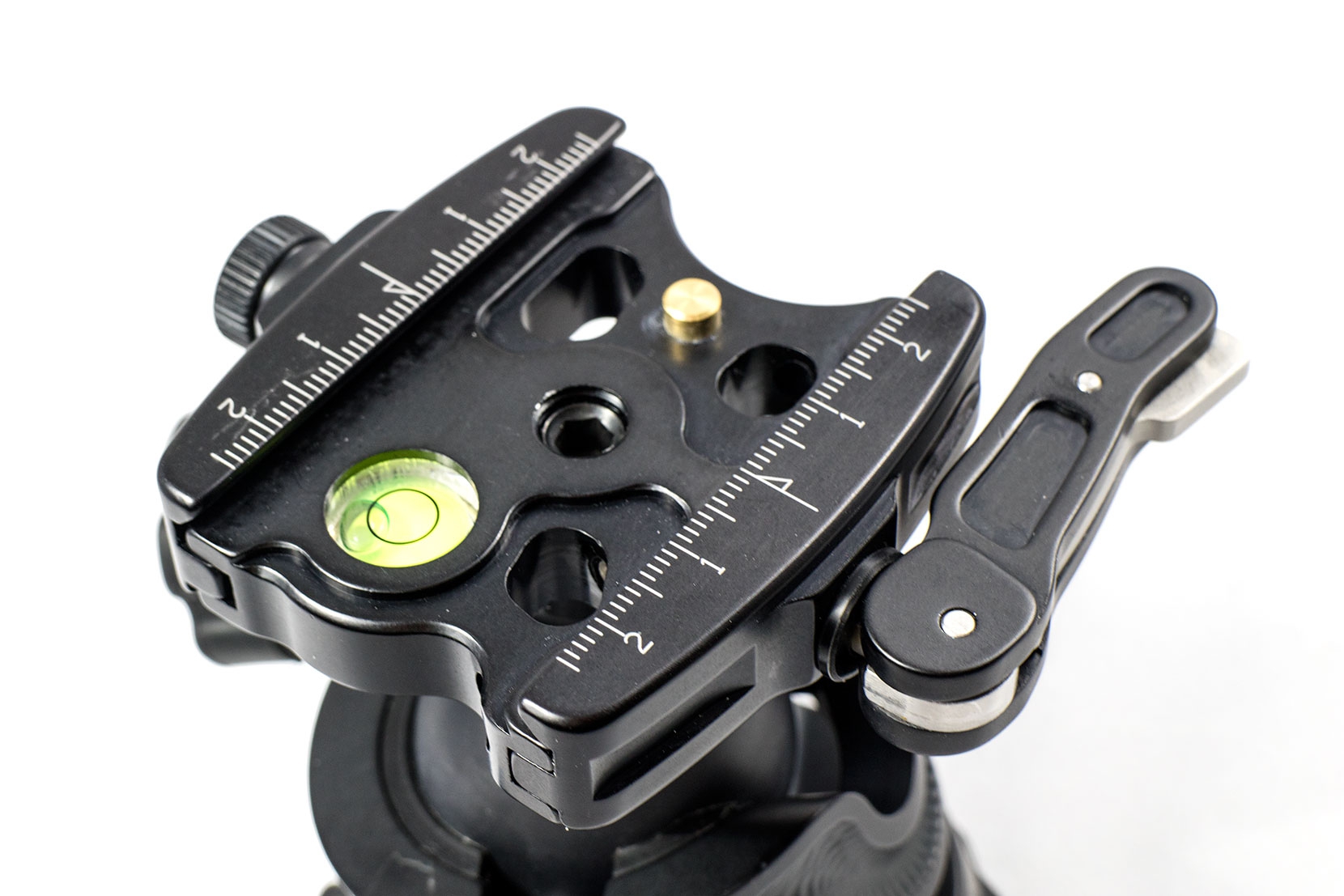 In Use
It's wonderful in the field. The camera attaches easily, the operation is smooth and it's fast and instinctive to operate. I took the head with me to Iceland last week and it performed flawlessly. There is no creep, you know the irritation of compositional drop once the ballhead is tightened. It's RRS solid as a rock, which makes it a superb for fluid precision adjustments. There was never any issues with colder temperatures I endured and I wouldn't imagine any iin excessive heat either.
It is easy to operate with gloves. I switch between a pair of beloved Mountain Equipment gloves when walking, to a thin set of RAB Phantom Grip gloves when operating the camera. The rubber cogs are a total joy to use and I much prefer these to plastic serrated ones found on other products.
I have a few small gripes but I can live with all of them.
The width of the ballhead base could do with widening for those using larger tripods, either that or being a few millimetres thicker. The cog that secures the horizontal movement is just 3-4mm away from my levelling base which means I initially trapped my fingers underneath, but smaller tripods will not suffer from this issue. Thickening or widening this base plate, increasing its height or diameter would fix this and allow your finger to get right underneath the cog. A small problem perhaps localised to my tripod, but I've learned to operate it accordingly.
The quick release lever needs to be returned to the lock position after detaching the camera. Put your camera in the bag, clumsily put the tripod in the back of the van and risk snapping off the lever by knocking it into something or dropping the tripod by accident. It doesn't feel vulnerable, but it looks vulnerable. I need to get into the routine, that's all.
I wish I could remove the gold safety pin on the clamp. The pin is spring loaded, which stops your camera from sliding, but this makes it more troublesome to use with a rail or L Bracket. I occasionally use shift lenses to make rectilinear panoramas, by moving the position of the camera relative to the lens, sliding it 10mm to the left or right. The pin will stop me from doing this without unclamping / reclamping the camera. It looks as though it has been pop riveted as it can't be unscrewed. I'll learn to live with it.
So there you have it, the GV2. You can buy it from WEX or also from Bob Rigby in the UK and directly from Acrotech if you are Stateside. It's a brilliant ball head, extremely light and yet military grade and I like it so much that I bought two of them. Unlike a pair of RRS BH55's that are the biggest balls in the landscape, they are appealing and attractive. The open ball design means no dirt and water gets trapped in between my balls, my balls are easy to clean and I can now avoid the problem that eventually caused my corroded balls to drop and lose stiffness when put under pressure on a big shoot. I want to look after my new balls so I carry them around in a special case. I'm now the envy of my photographic friends and clients because they can't believe how light my balls are when they cup them. I'm no longer ashamed of my balls - I get my balls out in public; I'm proud of my balls and I want to paint them gold; golder than a golden sunset AND I WILL BE KNOWN AS.... (OK enough!)
I feel the GV2 is best suited to medium size tripods, and although it has now balanced out by Gitzo 4542LS, perhaps a bigger diameter GV3 would suit it better (if they ever make one). For now I am happy with the choice. The Acratech GV2 is a solid and precision ballhead with the landscape photographer/ adventure photographer and action photographer in mind. For those requiring a top quality product that's light and highly durable, the GV2 is well worth the money.